Editor's Note: This story has been updated as of June 21, 2017, when CEO Travis Kalanick resigned. The New York Times reported on June 21 that five of Uber's major investors demanded Kalanick step down. Original story follows…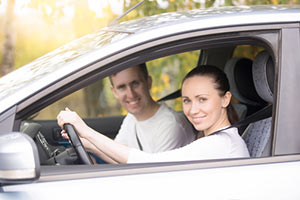 There's no set date for the inevitable Uber IPO, but anxious investors still want to know, "What is the Uber stock symbol?"
There is no Uber stock symbol because CEO Travis Kalanick has not set an Uber IPO date.
Stock symbols are only issued when a stock is ready to go public. That means lead underwriters have to be in place. Kalanick told Business Insider last June he would delay an Uber IPO as long as humanly possible. He gave a time frame from one to 10 years.
When Uber does go public, it will choose something close to its name to keep brand identification. Right now, the stock symbol UBER is available.
While there is no Uber IPO date yet, investors are excited to buy Uber stock because when it goes public, Uber could be valued at over $66 billion. And following a large valuation, large profits could follow.
A Better Path to Profits: Uber isn't publicly traded yet. But you can get stock picks and research that could put an extra $125,000 in your pocket delivered straight to your inbox for just pennies a day. Learn more...
But just because Uber has a lofty valuation, you shouldn't buy Uber stock just because of hype. That's why today we're going to provide you with everything you need to know about Uber.
We'll start with how Uber was formed and why it's so popular...
What Is Uber?
The company was founded in 2009 by Garrett Camp and Travis Kalanick. It was originally called UberCab.
Uber operates like a taxi service. But what makes Uber unique is it doesn't own any vehicles.
Uber hires independent contractors who use their own cars. People who want a ride use the Uber app on their smartphones, and their location is transferred to drivers. The drivers choose whether they want to accept a ride request.
The drivers are paid through the app, and Uber earns a 20% commission on each ride. The drivers keep the rest. But the drivers have to cover the cost of gas, maintenance, and tolls.
Because Uber doesn't have the costs of traditional transportation services, it's helped revenue skyrocket.
And the skyrocketing revenue is one of the reasons why Uber has a massive valuation...
How Much Is Uber Worth?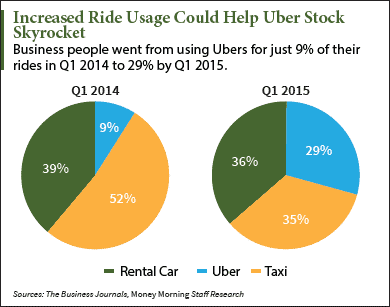 In 2014, Uber booked more than $495 million in revenue. In Q2 2016, revenue climbed to $1.1 billion. And one of Uber's sources of such growth has been businesspeople using the ride-hailing service over traditional transportation services.
In the first quarter of 2014, businesspeople used Uber just 9% of the time. They used taxis 52% of the time, and rental cars 39% of the time.
Just one year later, businesspeople used Uber 29% of the time. Taxi use had dropped to 35%. Roughly 36% used rental cars.
This massive revenue has helped Uber's valuation reach $66 billion at the beginning of 2016, according to CNBC.
Play IPOs Like the Pros: Sixty-six companies have gone public in 2017, but how do you know if a new issue is worth your investing dollars? Take the guesswork out of IPO investing with this special report...
Uber still needs more money to grow its business, which is why it will inevitably have an IPO.
That brings us to the most important question: Should I buy Uber stock?
Should I Buy Uber Stock?