(Kitco News) – Global stock markets were mostly firmer overnight, following the lead from New York's higher close Monday, where the Dow Jones Industrial Average hit another record high. European and Asian financial shares showed some recovery from recent losses, amid Italy's "no" vote on constitutional reforms.
Asian stock markets were also lifted on relief that the Italian no vote did little to rile the world marketplace. U.S. stock indexes are pointed toward narrowly mixed openings when the New York day session begins.
In overnight news, the Euro zone third-quarter gross domestic product was reported at up 0.3% from the second quarter and was up 1.7%, year-on-year. The numbers were in line with market expectations.
Gold prices are modestly lower in early U.S. trading, as the bears have the solid overall near-term technical advantage, amid a lack of fresh bullish fundamental news.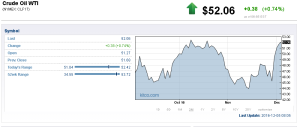 The key "outside markets" on Tuesday see the crude oil market weaker on a corrective pullback from recent strong gains that took prices to a six-week high on Monday. The U.S. dollar index is trading higher today on a modest rebound from solid losses posted Monday, which do begin to suggest the index has put in a near-term top.
U.S. economic data due for release Tuesday includes the weekly Johnson Redbook and Goldman Sachs retail sales reports, revised productivity and costs, the international trade report, manufacturers' shipments and inventories, and the IDB/TIPP economic optimism index.
Overnight gold spot prices on Kitco.com regain a key support level as it traded in a narrow range with a high at $1,175.40 an ounce and a low at $1,169 an ounce.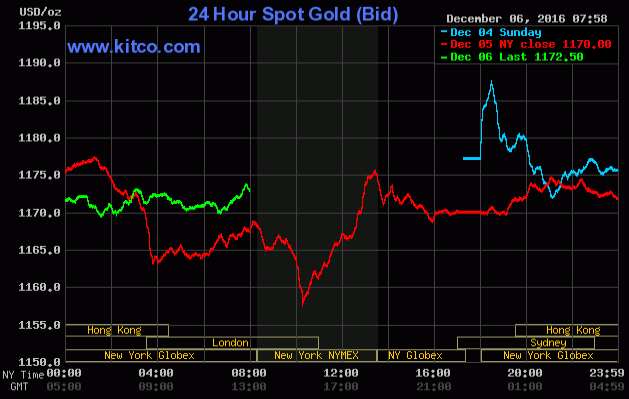 By Jim Wyckoff, contributing to Kitco News; jwyckoff@kitco.com
Follow Jim Wyckoff @jimwyckoff for breaking market news.