Over the past two weeks, I've explained how automated investment services, or "robo-advisors," are generally wired.
Today, I'm tackling what the real problems are with robo-advisory services – who should use them, and how not to get crushed when they go haywire.
Depending on what theories and math robo-advisors are wired for, they construct a "personalized" portfolio based on forms you fill out online, and they automatically rebalance your portfolio when threshold weightings of positions in your portfolio get out of balance.
And that's precisely where the issues begin…
Ghosts in the Machine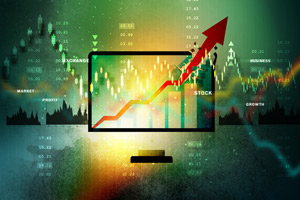 The first problem with these services starts there, in their construction of portfolios.
They are personalized – but only to the degree that you fit into a model that fits thousands or hundreds of thousands of other hopeful investors. So don't count on your portfolio being different to the point where you believe it's immune from what anyone (or everyone) else might suffer through if markets blow up.
Generally, you're put into "passive" low-cost indexed ETFs. Investors plowing in larger sums at some services, like Wealthfront, can have a combination of individual securities and one or two "completion ETFs" to track an index.
Trending: Get the Best Investing Research Today to Grow Your Money
If you're investing 100% in U.S. equities and expect robots to diversify you, they will… but they won't.
The bottom line is, no matter how robots break up your funds – whether they put you in several big index ETFs tracking the likes of the S&P 500, the Dow Jones Industrials, or the Nasdaq – you're essentially correlated to the market.
Robots can put you into large-cap ETFs, small-cap ETFs, growth ETFs, value-oriented ETFs, into ETFs indexed to divided sectors or industries, or smaller subsets of equities based on fundamentals, dividends, almost any subset of stocks based on almost any theme. There are lots of indexed "products."
But you're still correlated to the market.
It may matter what indexes you're in on the upside, in the short run. It won't really matter in the long run if you're well-diversified across all these indexes and groups. You're being indexed enough, diversified enough, to essentially just follow the general market.
On the downside it matters, because correlation is what it is: a phenomenon whereby most equities break down when faced with widespread selling by individuals, hedge funds, and mutual funds. It matters especially in the short run, regardless of how "uncorrelated" to each other these equities are supposed to be.
Then there are the ETFs. That's what you're mostly invested in with robo-advisory services.
If you don't remember what happened to ETFs last August, you need to be reminded here and never forget.
Because ETFs are composed of actual stocks, or futures, other assets, or derivatives for that matter, they are priced based on the sum of their parts. Last August, before markets opened, futures prices were down sharply. Everyone knew stocks would likely sell off hard at the open. And… they did.
The problem with ETFs suddenly surfaced. How can you open trading in a security if the price of that security (an ETF) is based on other stocks that aren't open, or opening, and have no prices? You can't really. If you do, you're just guessing.
So while lots of ETFs weren't opened for trading, the constituent stocks that they're made of were going down.
What happens to your portfolio if your robots can't sell your ETFs while the stocks that make them up are going down?
You could be devastated.
The Faults in Correlation
Join the conversation. Click here to jump to comments…
About the Author
Shah Gilani is Chief Financial Strategist for Money Map Press and boasts a financial pedigree unlike any other. He ran his first hedge fund in 1982 from his seat on the floor of the Chicago Board Options Exchange. When options on the Standard & Poor's 100 began trading on March 11, 1983, Shah worked in "the pit" as a market maker. The work he did laid the foundation for what would later become the Volatility Index (VIX) - to this day one of the most widely used indicators worldwide. After leaving Chicago to run the futures and options division of the British banking giant Lloyd's TSB, Shah moved up to Roosevelt & Cross Inc., an old-line New York boutique firm. There he originated and ran a packaged fixed-income trading desk and established that company's "listed" and OTC trading desks. Shah founded a second hedge fund in 1999, which he ran until 2003. Shah's vast network of contacts includes the biggest players on Wall Street and in international finance. These contacts give him the real story - when others only get what the investment banks want them to see. On top of the free newsletter, as editor of The 10X Trader, Money Map Report and Straight Line Profits, Shah presents his legion of subscribers with the chance to earn ten times their money on trade after trade using a little-known strategy. Shah is a frequent guest on CNBC, Forbes, and MarketWatch, and you can catch him every week on FOX Business' "Varney & Co."