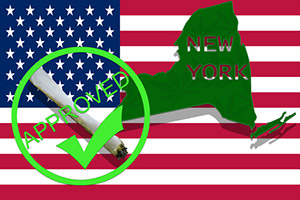 New York has some of the strictest medical marijuana laws in the country, but a major tweak to current laws could increase patient access and help those in need.
According to NBC New York, 750 physicians have signed up to participate in medical marijuana programs, and 10,730 patients have been certified for medical marijuana use. But because of the restrictions, access to medical marijuana is still limited.
Right now, marijuana can't be dispensed in a smokeable form. Also, physicians have to complete a training course to approve medical marijuana for patients.
But some new tweaks to New York marijuana laws could start to increase access for patients…
Nurse practitioners and physician assistants will soon be able to certify patients for medical cannabis, which will allow faster access. Patients will no longer have to wait for just doctors to provide prescriptions.
New York is also considering authorizing home deliveries, as well as adding chronic pain to a list of qualifying conditions.
Special Report: Cannabis Is the Gold Rush of the 21st Century. 30 Stocks to Invest in Now.
New York may also consider allowing more dispensaries to open to increase access across the state.
These updates should help patients, but marijuana advocates still want to see more changes…
One of the biggest changes advocates want is allowing dispensaries to increase the formulations they can offer. Patients can only use medical marijuana in liquids and oils for vaporization. Medical marijuana can also be used through inhalers and capsules.
Right now dispensaries are having a difficult time breaking even, in part because of a limited product range, according to NBC New York.
Allowing marijuana to be smoked would expand dispensaries' products, which would increase profits. Advocates also want more doctors to participate, as well as more qualifying conditions for marijuana.
If you want to learn more about the marijuana industry and investing in marijuana stocks, we have a special offer below…
As a service to Money Morning readers, we're now making available a 90-page cannabis investing guide called "The Roadmap to Marijuana Millions." This "bible of weed investing" reveals the world's top marijuana stocks every serious investor should consider right now. Normally valued at $499, it can be yours absolutely free. To learn how to get your free copy, click here. This offer is only available to the first 500 people who respond today. So please go here now to reserve your copy.
Follow Money Morning on Facebook and Twitter.