While the U.S. markets keep hitting record highs, investors received a major new stock market crash warning sign from one of the world's most famous economists.
Peter Schiff, an outspoken U.S. Federal Reserve policy critic, sees disaster coming in the wake of Donald Trump's presidential victory on Nov. 8.
Talking recently to CNBC, the chief of Euro Pacific Capital said the economic promises that got Trump elected and spawned an impressive rally on Wall Street are the exact same ones that could spark the next stock market crash.
Trump won voters, and later investors, with his ambitious plans to slash taxes and boost infrastructure spending. Trump has said his plans could return U.S. growth to levels last seen in the late 1990s. He promised that higher growth would generate about 25 million new jobs over a decade. That would surpass the 22 million jobs created during the economic boom of the 1990s.
Trending: Get the Best Investing Research Today to Grow Your Money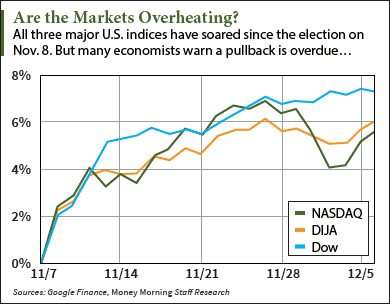 In Schiff's view, Trump's proposed policies will do more harm than good to the economy.
"He doesn't want to tackle, for political reasons, the real problems that are underlying the economy," Schiff said on CNBC's "Futures Now" on Nov. 28.
Schiff predicts that Trump's economic policies (dubbed Trumponomics) will worsen the existing trade and fiscal deficits and produce inflation the Fed will have to solve. This could even force the Fed's hand to reverse course on the U.S. central bank's widely expected interest rate hike next week.
Market odds of a rate hike at the Fed's Dec. 13-14 meeting sit at 95%, according to CME Group's FedWatch Tool. But the Fed's interest rate pace going forward is unclear and may be influenced by Trump's moves.
Here's why…
Trump aims to spend $1 trillion on infrastructure over the next decade. Meanwhile, the president-elect is planning sharp tax cuts. Critics like Schiff say doing both will cause the U.S. deficit to swell. In FY2016, the deficit was a staggering $587 billion.
"We're going to have to do even more quantitative easing (QE)," Schiff said.
QE is policymakers' most powerful tool: ultra-easy liquidity to juice the economy.
As for an interest rate hike next week, Schiff believes it's already "too little, too late…"
And that is being taken as a stock market crash warning sign…
Is a Stock Market Crash Coming in 2017?