There's one company primarily behind "Trump's market rally," according to longtime trading veteran Art Cashin, director of floor operations at UBS.
In a note to investors today, Cashin gave big bank Goldman Sachs Group Inc. (NYSE: GS) all the credit for the Dow's recent surge…
"The Dow closed up 35 points [on Dec. 6] and almost 23 of those points came from Goldman Sachs," he wrote. "In fact, our good friend and fellow trading veteran, Jim Brown, at Option Investor, points out that GS has rallied $57 since the election. That means that GS has provided 441 of the 1,363 points that the Dow has rallied. In case your calculator batteries are dead, that's about one-third of the rally, all due to Goldman."
GS shares actually hit an all-time high yesterday…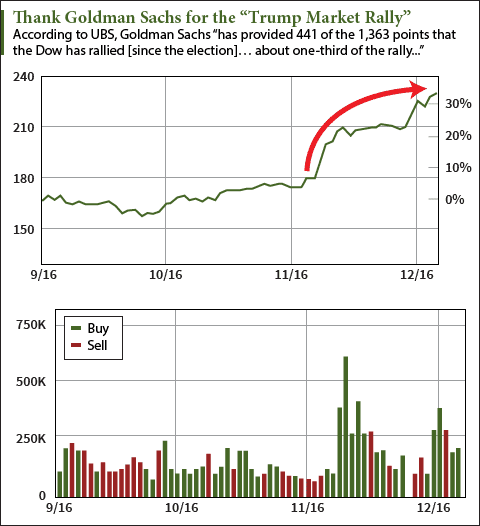 And this surge, in turn, pushed the Dow to its own record high: 19,276.25.
Cashin went on to surmise in his letter why these milestones are so suddenly being reached…
Trump's Market Rally – Investors Inspired by What's to Come
Investors are likely betting big on impending financial industry deregulation under a President Trump, Cashin wrote. On top of that, it's reasonable to think that Dodd-Frank will be rolled back – if not completely overturned – with Steven Mnuchin, a former Goldman Sachs partner, soon to be at the Treasury's helm.
So investors' bullishness on Goldman Sachs is warranted…
Don't Miss: Your Perfectly Diversified Portfolio Could Be in Danger – Here's Why
In fact, Trump may be putting several GS alums in powerful administration positions. The real estate mogul is said to be considering Goldman's current No. 2 exec, Gary Cohn, to lead the Office of Management and Budget, CNN reported on Nov. 30.
And don't forget Steve Bannon, Trump's chief strategist, who also worked for Goldman at one time.
Up Next
Money Morning Capital Wave Strategist Shah Gilani doesn't think "Dow 20k" is out of the question.
In fact, Gilani's already saying "Dow 21k."
Here's a look at why (and when) he expects that record to break…
Follow Money Morning on Facebook and Twitter.
Related Articles: