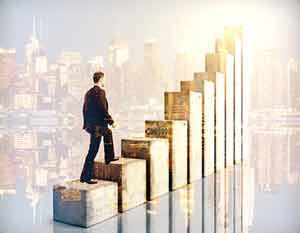 The Advanced Micro Devices Inc. (AMD) stock price is soaring after rumors suggested the chipmaker will sign a potential game-changing deal with rival Intel Corp. (Nasdaq: INTC).
The Advanced Micro Devices Inc. (Nasdaq: AMD) stock price climbed 8.87% on Tuesday and closed at $9.45 per share. Volume was heavy at 91,837,000 shares trading. That made AMD stock the third most active stock Tuesday.
AMD shares were up more than 2% intraday today (Wednesday), which brought shares to a 52-week high.
Here's more about the deal…
Advanced Micro Devices Inc. (AMD) Stock Jumps on Intel News
According to reports, Intel wants to license AMD's graphics technology for its future processors.
Additional details of the arrangement, including financial terms, were not immediately available. In fact, the news right now is still a rumor.
It started Monday night when Kyle Bennett, longtime editor of enthusiast hardware site HardOCP.com, posted that an AMD-INTC deal was indeed done.
Up Next: How Small Investors Can Take on Wall Street… and Win
"The licensing deal between AMD and Intel is signed and done for putting AMD GPU tech into Intel's iGPU," Bennett said on the site.
But Bennett didn't elaborate and didn't respond to an email late Tuesday from PCWorld for confirmation. Both AMD and INTC also declined PCWorld's request for a comment.
If there is a deal, that's great news for AMD shareholders.
However, good news for AMD likely means bad news for NVIDIA Corp. (Nasdaq: NVDA)…
You see, Intel and NVIDIA have a cross-licensing agreement that gives Intel access to some NVIDIA patents. The agreement expires early next year, and there has been no news of a renewal.
It's quite possible that the AMD-INTC deal will replace the soon-to-expire INTC-NVDA arrangement.
Deal or no deal, AMD is preparing to launch its Zen processor next year. AMD's Zen is the company's first whole new processor design since it unveiled its inaugural Bulldozer technology roughly five years ago.
If early projections are accurate, AMD could deliver genuine competition to Intel on the gaming front with Zen.
The AMD stock price has skyrocketed so far in 2016, with shares up 236.93% year to date.
We're keeping a close watch on this deal because "supplier stocks" like AMD can generate huge profits. Supplier stocks can be an alternative way to profit from a tech giant's success, and we have seven supplier stocks to keep an eye on for 2017, right here.
Follow us on Twitter @moneymorning and like us on Facebook.
Related Articles: