With the markets nearing all-time highs, and the Nasdaq climbing nearly 7% in the last month, we've compiled a list of eight tech stocks to watch.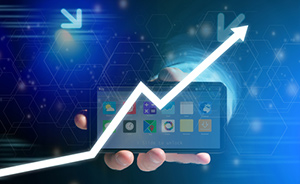 Each of these top tech stocks represents a quality company that will survive and thrive even in the most volatile markets. They are producing products and services that the world demands and are continually innovating and diversifying.
If you're interested in the tech market, each of these tech stocks to watch needs to be on your radar as we head toward 2017.
Tech Stocks to Watch Now No. 8: Tesla
Most people are simply fascinated with Elon Musk. They can't wait to see what he brings to our roads or decides to shoot into space next. Considered the most innovative CEO on the planet, Musk's ideas may not always work, but when they do, they're both groundbreaking and incredibly profitable.
Don't Miss: This is your ticket to bigger and better returns… and it won't cost you a penny. What are you waiting for? Read more… 
Tesla Motors Inc. (Nasdaq: TSLA) stock is down over 20% year to date (YTD), which presents a fantastic buying opportunity for investors who wish to hold TSLA long term. The company has a lot in store for the future with its Model 3 vehicles, autopilot program, and partnership with SolarCity.
Tesla is positioned to rally going into 2017. Shares of TSLA are trading near $193.15.
Tech Stocks to Watch Now No. 7: Microsoft
If you purchase anything other than a MacBook, you're using Microsoft Corp. (Nasdaq: MSFT) products, like them or not. Microsoft has contracts with the PC market, but that's not the only reason that it's among the best tech stocks.
The company has been converting its popular Office product to a subscription model and has been developing a profitable cloud business (Microsoft Azure). It is even throwing its hat into the AI ring with its HoloLens.
Shares of MSFT are currently $60.21, with gains of 8.6% YTD. Microsoft also pays a steadily increasing dividend, now at $0.39 per share.
Tech Stocks to Watch Now No. 6: Alphabet
Yes, it will cost you a pretty penny to buy just one share of this stock. However, if you can afford the investment, Alphabet Inc. (Nasdaq: GOOGL) (formerly Google) is a tech company that you hold on to for long-term gains.
Google dominates the search engines, with 5.5 billion searches per day. It's also diversified into such things as AI, big data, robotics, and self-driving cars.
Shares of GOOGL are currently $776.79, which is down 3% from three months ago, making now a good time to buy.
If the price is keeping you out of GOOGL, take a look at the Technology SPDR ETF (NYSE Arca: XLK), where you get to hold shares of many of these top tech companies at a fraction of the cost.
Tech Stocks to Watch Now No. 5: Facebook
It's hard to go wrong with a Facebook Inc. (Nasdaq: FB) investment. Considered one of the best tech stocks to buy, the company continues to crush earnings expectations as it expands its user base.
At last report, the site had 1.13 billion daily active users and has several massive sources of future revenue in place: Instagram, WhatsApp/Messenger, and Oculus Rift.
Facebook stock is currently trading at $117.29, with gains of 12% YTD.  Money Morning Director of Tech & Venture Research Capital Michael A. Robinson believes that the stock price will close to double these levels by 2020.
Tech Stocks to Watch Now No. 4: Amazon
Amazon.com Inc. (Nasdaq: AMZN) is an e-commerce powerhouse, with more than 181 million unique monthly visitors and more than 63 million members of its Amazon Prime service.
The company is promising to give Netflix a run for its money, now that the popular service is raising rates. Amazon is also diversified into data services, delivery, and its own propriety products (think Echo and Kindle).
Shares of AMZN are trading at $763.12, with gains of 13% YTD.
Continue reading for our top three tech stocks to watch as we head toward 2017…
Tech Stocks to Watch Now No. 3: Raytheon
Not all defense firms are doing well in 2016. But Raytheon Co. (NYSE: RTN) is on our list of best tech stocks to watch. Not only does this defense giant have hundreds of millions in current missile systems contracts with the U.S. government, but it is also on the forefront of one of the world's most pressing issues – cybersecurity.
Most of our government computer systems need massive technical and security upgrades. Raytheon happens to be one of the few companies that is both equipped to handle this and that has the requisite security clearances for the work. The Department of Homeland Security (DHS) has already confirmed a $1 billion contract, and there is certainly more to come.
RTN shares are trading at $148.42, with gains of 19% YTD.
Tech Stocks to Watch Now No. 2: Apple
No tech stock list would be complete without Apple Inc. (Nasdaq: AAPL). The inventor of the smartphone, Apple continues to bust through sales records with each new iPhone release, and its Apple services are becoming a massive portion of its profit base.
Once you walk out the door with a new iPhone, Apple makes sure that you continue to spend money through its iCloud, iTunes Store, and Apple Music. You can even use Apple Pay for your purchases. In less than five years, these services could account for nearly 30% of the company's gross profits.
Apple stock is currently trading at $109.87, with gains of 4.6% YTD and a dividend of $0.57.
Tech Stocks to Watch Now No. 1: Alibaba
Alibaba Group Holding Ltd. (NYSE: BABA), the Chinese online powerhouse, continues to expand and diversify, making it one of the best tech stocks to buy this year.
Alibaba's e-commerce solutions are now being expanded into Europe, Canada, and Australia. The company also has a profitable cloud-computing division and has made a successful transition toward monetizing its mobile platform.
BABA stock is up over 9% YTD. The stock is currently trading at $90.97.
Give Your Portfolio a Much-Needed Edge: Chances are, your investing returns aren't where they could be if you had the proper tools. Learn how you can double your money in just days, profit on a trend that's gearing up to generate massive returns, give your portfolio a 325% performance advantage, and more. Click here…
Follow Money Morning on Facebook and Twitter.