(Kitco News) – World stock markets were mostly higher in quieter overnight trading, following Wall Street's solid gains on Wednesday that produced record highs in the Dow Jones Industrial Average and the S&P 500 indexes. Asian shares were supported in part by the appointment of Iowa Governor Terry Branstad as ambassador to China. Chinese officials called Branstad "an old friend." U.S. stock indexes are pointed toward slightly higher openings when the New York day session begins.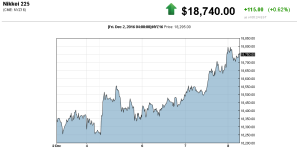 Traders and investors were awaiting the results of Thursday's regular meeting of the European Central Bank. Most expect the ECB to continue its bond-buying program for another six months, but after that there are mixed ideas on what the ECB will do. Market watchers are hoping Thursday's meeting and press conference from bank president Mario Draghi will produce some new clues about ECB monetary policy plans for later in 2017.
The marketplace is also looking ahead to next week's U.S. Federal Reserve FOMC meeting. Most believe the Fed will raise interest rates for the first time in a year.
In overnight news, the Paris-based OECD think tank released a report that said global economic conditions will continue to generally improve in the coming new year.
The key "outside markets" on Thursday find Nymex crude oil prices firmer.
Oil traders are awaiting the results of this weekend's meeting between OPEC and non-OPEC oil producers in Moscow, regarding implementing the cartel's stated intention to cut oil-production levels. Some are still skeptical that OPEC will actually cut its production.
Meantime, the U.S. dollar index is weaker in early U.S. trading. The greenback bulls have faded a bit this week, amid a surge in the Euro currency.
U.S. economic data due for release Thursday includes the weekly jobless claims report and the ISM semiannual report on business and economic conditions.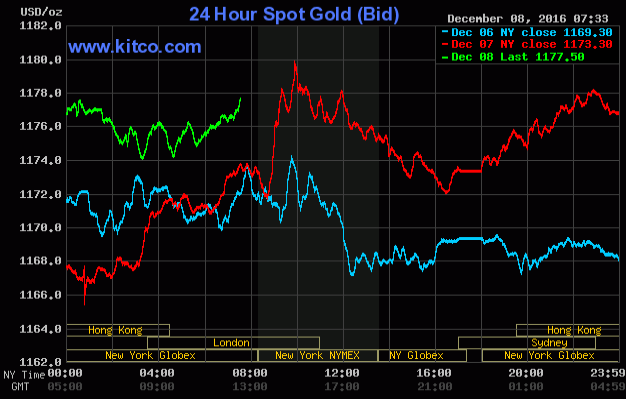 By Jim Wyckoff, contributing to Kitco News; jwyckoff@kitco.com
Follow Jim Wyckoff @jimwyckoff breaking market news.