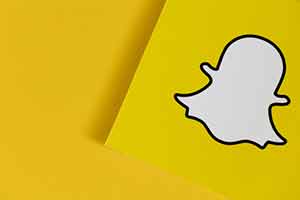 With the hype of the Snapchat IPO growing every day on Wall Street heading into 2017, retail investors want to know if they should follow the crowd and invest in Snapchat.
Snapchat's parent company, Snap Inc., could go public as early as March 2017. And if the Snap Inc. IPO is successful, it's a good sign for the tech industry and IPO market.
"I'm hoping to see a very successful IPO since Snap Inc. is a high-profile unicorn with a pre-market valuation of $17.8 billion at its last round. So, if reports of a $25 billion valuation at the open are true, that's great for the entire tech industry, the IPO market, and the overall value of the social networking market," Money Moring Director of Tech & Venture Capital Research Michael A. Robinson said on Oct. 25.
But that $25 billion valuation could climb, making Snapchat stock overpriced for value investors.
That's why ahead of the IPO, we wanted to make sure investors knew more about Snapchat's history and valuation.
Here's a look at how Snapchat became so popular and how Snapchat makes money….
How Snapchat Works and Makes Money
The Snapchat app on smartphones allows users to send messages that disappear after a few seconds. These messages can be pictures or videos that users add images, captions, animations, and doodles to.
The disappearing messages are a big selling point, as social media users have grown concerned over the years with who can see their pictures and posts. This has made Snapchat a favorite among teenagers and millennials (ages 18 to 35).
Brilliant: This 35-Year-Old Printer Could Make You $914,565 Richer!
Cantor Fitzgerald analysts report that Snapchat users are on the app for almost 10 minutes each day.
In comparison, Instagram users are on it for six-and-a-half minutes.
And because of Snapchat's popularity, advertisers are paying massive amounts for ad space.
Through Snapchat's "Sponsored Lenses," companies can create custom filters on Snapchat. For example, 20th Century Fox created lenses that allowed Snapchat users to add characters like Snoopy and Woodstock from "The Peanut Movie" into their messages.
Sponsored Lenses cost between $100,000 and $750,000 for just a 24-hour ad, according to Business Insider.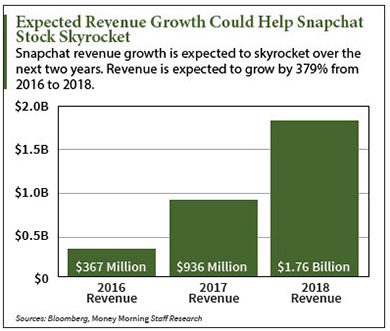 Snapchat is also earning money through selling sunglasses with a camera on them called "Spectacles." These sunglasses allow users to record a short video and post it wirelessly to Snapchat.
These revenue sources could make Snapchat's revenue skyrocket…
For 2016, Snapchat is expected to report $367 million in revenue. After that, Snapchat could generate close to $1 billion in 2017 and nearly $2 billion by 2018.
These revenue projections are part of the reason why Snapchat has a massive valuation…
How Much Is Snapchat Worth?
Snapchat is likely to be priced similarly to Facebook Inc. (Nasdaq: FB) during its 2012 IPO. Facebook was priced at 19 times its 12 months forward projected revenue.
Snap Inc.'s projected revenue for 2017 is roughly $1 billion.
With a valuation around $25 billion, that means Snapchat stock could trade for 25 times its 2017 revenue.
This may seem expensive to value investors, but tech stocks generally trade a lot higher than their earnings after their IPOs. For example, Amazon.com Inc. (Nasdaq: AMZN) has a P/E ratio of 175.80.
This leads us to the most important question: Should I invest in Snapchat stock?
What to Know About Investing in Snapchat Stock
Large institutions like banks and hedge funds are able to invest in IPOs before retail investors, which means they make the most profits.
"Think about this for a minute. Silicon Valley venture capitalists have put a few billion into Snapchat privately (after three or four earlier rounds of financing), and they're counting on an IPO to cash out at 10 or even 20 times their money. The only way that happens is to convince you – the retail investor – that it's 'worth' the risk by offering shares to the hoi palloi," Money Morning Chief Investment Strategist Keith Fitz-Gerald said on Nov. 21.
For example, insiders only had to pay $15 per share for Twilio Inc. (NYSE: TWLO) stock before it was available to retail investors. By the time retail investors were able to invest on June 23, they had to pay $23.99 per share.
TWLO opened today at $31.87 per share, which means retail investors could have made a profit of 32% thus far.
But hedge funds and large investors are up 112%.
"There isn't an investment banker on the planet who gives a damn about whether or not the investing public makes a dime on the IPO. Your sole purpose is to guarantee that they get their capital first," Fitz-Gerald said.
Right now, Fitz-Gerald says the only way to play Snapchat stock is as a speculative investment.
Because this could be one of the biggest IPOs in years, we know investors still have a lot of questions. That's why we made this guide for our readers that covers everything you need to know about the Snapchat IPO.
Follow Money Morning on Facebook and Twitter.