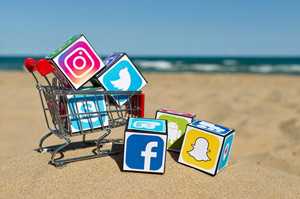 Investors are anxiously awaiting the Snapchat IPO, but new competition could make Snapchat stock less appealing before its potential Q1 2017 IPO.
According to Business Insider, Facebook Inc. (Nasdaq: FB) has approached media and entertainment companies to include them in a new feature. Known as "Collections," this new Facebook feature would show content from participating partners directly in your News Feed.
This means companies would have to rely less on posts being shared to reach an audience.
And that's bad news for Snapchat…
Snapchat has a similar service called "Discover." In Discover, publishers like ESPN and Cosmo post content with pictures and short headlines designed to attract Snapchat users to their sites.
Facebook Collections could mean less revenue for Snapchat, which could make investing in Snapchat stock less profitable.
Snapchat charges anywhere from $50,000 a day to $250,000 for its Discover section. However, Snapchat may have to charge less if Facebook offers similar features because advertisers can reach a larger audience on Facebook.
Snapchat has an estimated 150 million daily active users (DAUs). In comparison, Facebook has 1.18 billion DAUs.
Advertisers will go where they get the best return on their investment. And Facebook introducing Snapchat-like features will be a constant concern for Snapchat shareholders.
Trending Story: Your Uber Stock and IPO Guide
In the past, Facebook has launched products like "Poke" and "Slingshot," which allowed users to send photos and videos that disappeared. Neither was successful, but Facebook has the money and resources to continuously try and steal users and advertisers from Snapchat.
Will this constant competition make the Snapchat IPO a bad investment?
Here's everything you need to know before investing in Snapchat stock…
How to Play the Snapchat IPO
There are always risks investing in an IPO.
And tech IPOs are notoriously risky…
Facebook stock has been a good investment over the long term, as you can see in the chart below. Over the last five years, the FB stock price has climbed over 211%, while the S&P 500 has climbed just 97.89%.
But IPO investors still lost money after the stock's debut. On May 18, 2012, the Facebook stock price opened at $42.05 per share. By Sept. 4, 2012, it opened at $18.08 per share.
That's a 57% drop in roughly five months. It took about a year for the Facebook stock price to trade above $42 per share again.
Recently, the tech stock Twilio Inc. (NYSE: TWLO) opened at $23.99 per share on June 23, 2016. It climbed all the way to $70.96 per share in intraday trading on Sept. 28, but opened this morning at $31.05.
If investors bought TWLO stock at its 52-week high price of $70.96, they would have lost 56% of their investment.
"Millions of 'mom and pop' investors are itching to get a piece of the action believing that they're going to make a fortune when getting burned is far more likely," Money Morning Chief Investment Strategist Keith Fitz-Gerald said on Nov. 21.
But if you know the risks and plan to play the Snapchat IPO, Money Morning Director of Tech & Venture Capital Research Michael A. Robinson has a strategy.
"I generally tell retail investors to avoid buying an IPO at the open because the insiders have already made all the money available at the debut," Robinson told me.
"My exception to this rule is to put in a limit order that is fairly tight from the offering price. Otherwise the risk is you buy at the top and then go upside down. That's a big risk to carry with a new issue that hasn't hit the lock-up date," Robinson said.
Because this could be one of the biggest IPOs in 2017, we know investors still have a lot of questions. That's why we made this guide for our readers that covers everything you need to know about the Snapchat IPO.
Follow Money Morning on Facebook and Twitter.