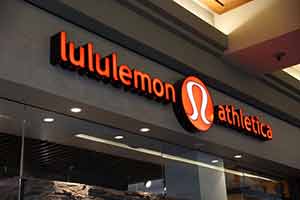 The Lululemon Athletica Inc. (LULU) stock price is surging today (Thursday) after upbeat earnings and news of a new stock buyback.
Shares of Lululemon Athletica Inc. (Nasdaq: LULU) soared 20% to $72.70 on heavy volume shortly after today's opening bell.
After Wednesday's close, the Canada-based company posted Q3 adjusted earnings per share (EPS) of $0.47 on revenue of $544 million. Wall Street was looking for EPS of $0.43 on revenue of $544.4 million.
Total same-store sales increased 7% in Q3. That was comfortably above the 5.4% projected by a Consensus Metrix analyst survey.
Lululemon also raised its full-year guidance and expects a strong current quarter.
The company is now projecting Q4 EPS in a range of $0.96 to $1.01. Net revenue is forecast to come in between $765 million and $785 million, slightly below previous projections of $787 million.
CEO Laurent Potdevin said the current quarter started with mixed sales results, but things have since improved. Potdevin told analysts that Lululemon is on track to hit the five-year targets the company outlined earlier this year. That includes hitting $4 billion in revenue, almost double the $2.1 billion reported in 2015.
Potdevin credited Lululemon's successfully redesigned pants wall, where Lululemon features a variety of tights that have become increasingly popular with the company's mostly female consumer base, for the vibrant quarter. Sales for pants showcased on store walls climbed 11% on a comparable basis. That growth outperformed the overall sales increase.
The escalating sales numbers show that the "athleisure" trend is still alive and well at Lululemon.
But those high sales totals aren't the only reason for the rise in Lululemon stock today...
Lululemon Athletica Inc. (LULU) Stock Buyback Boosts Shares
The company's board also authorized a $100 million share buyback program last evening. Buybacks reduce the number of shares available, making the stock price over time more expensive.
A handful of analysts weighed in with mixed sentiments following Lululemon's Q3 results.
Wedbush Securities reiterated its "Outperform" rating and added LULU to its "Best Ideas List."
Mizuho Securities upgraded LULU to "Buy" from "Neutral" and raised its price target to $78 from $60.
Stifel said Q3 expectations were so low that the beat is not a quality beat. The firm maintains its "Hold" rating and $67 price target.
FBR Capital noted traffic continued to decline in Q3. The firm believes LULU's current teens margin structure is the new norm and reiterated its "Underperform" rating.
At $70.81, the Lululemon Athletica stock price is up 34.95% year to date.
Because LULU shares have already soared, most of the profit opportunity has already passed investors by. That's why we're bringing Money Morning readers a complete list of the best stocks to buy today. These stocks all have tremendous upside heading into 2017. Here's the full list...
Follow us on Twitter @moneymorning and like us on Facebook.
Related Articles: