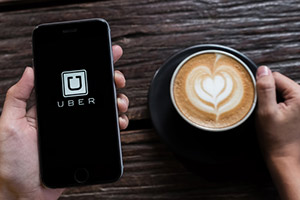 With a lack of big-name tech IPOs in 2016, anxious investors are now asking, "what is the Uber IPO date?"
Uber CEO Travis Kalanick has been clear he wants to delay the Uber IPO as long as possible. According to Business Insider, Kalanick said in June 2016 Uber could go public in one to 10 years. So unfortunately, we have no official Uber IPO date yet.
But if Uber wants to continue to grow, it will eventually need to go public.
And when it does go public, Uber will be one of the most hyped stocks because Wall Street loves IPOs. But just because Wall Street is hyping Uber stock, that doesn't make it a good investment.
Today, we are going to share how to play the Uber IPO.
But first, let's take a look at the fundamentals and history of Uber…
The History of Uber
Uber, originally named UberCab, was founded in 2009 by Kalanick and Garrett Camp. Camp was a co-founder of StumbleUpon and Kalanick co-founded a successful file-sharing company called Red Swoosh.
Uber calls itself a technology company instead of a transportation company. The service operates through a smartphone app, where users request a ride from an Uber driver.
When an Uber driver accepts the ride, they pick up the passenger and take them to their desired destination.
Trending Story: Your Snapchat Stock Guide Before Snap Goes Public  
Uber gets a 20% commission and the driver keeps the rest. However, Uber drivers use their own vehicles and are independent contractors. That means they pay for tolls, vehicle maintenance, and gas.
Uber is now available in most major cities worldwide, and it's logged more than 2 billion total rides.
And Uber's growing popularity has given it a lofty valuation…
How Much Is Uber Worth?
Uber has a current valuation of $66 billion. That's because its revenue is projected to skyrocket.
In 2014, the company's bookings were $2.93 billion. Just for Q2 2016, their bookings skyrocketed to $5 billion.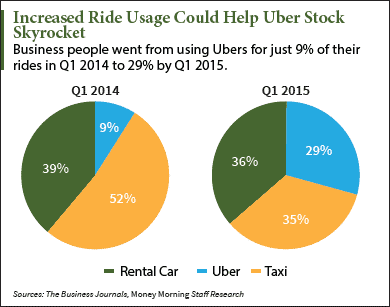 One reason for Uber's rapid revenue growth is more businesspeople are choosing Uber over traditional transportation services. In the first quarter of 2014, businesspeople used Uber for just 9% of their rides.
In Q1 2016, businesspeople were using Uber 29% of the time.
But with Uber's popularity, other ride-sharing companies have become popular as well…
Uber's Biggest Competitors
Lyft is Uber's biggest competitor in the United States. It's a smaller company, but Lyft now operates in roughly 220 cities.
Lyft launched in 2012, and it's rapidly increasing its revenue. According to Business Insider, Lyft expected to generate $170 million in gross profit for 2015. In 2016, that number climbed to $400 million.
That's an increase of 135% in a year.
Lyft also has some big-name backers such as General Motors Co. (NYSE: GM), Alibaba Group Holding Ltd. (NYSE: BABA), and Saudi Prince Al-Waleed bin Talal.
Outside of the United States, Uber tried to develop a presence in China. However, keeping up with the competition proved too expensive. According to Bloomberg, Uber lost $1.2 billion just in the first half of 2016 trying to compete with Chinese company Didi Chuxing.
On Aug. 1, 2016, Uber announced a deal with Didi. Uber would sell the company its China operations in return for a $1 billion investment in Uber's global company.
Uber's revenue totals look impressive.
But here's what you need to know before investing in Uber stock…
Should I Buy Uber Stock?
Uber stock is a speculative investment for two main reasons.
The first reason is wealthy investors and large institutions always make the most money from IPOs, not retail investors.
For example, when Twilio Inc. (NYSE: TWLO) went public, the company had an IPO offering price of $15 per share. Only wealthy investors and large institutions where able to buy in at that price.
When the public could purchase TWLO stock on June 23, it opened at $23.99 per share. Those wealthy investors made a 59% profit as soon as TWLO stock started trading.
"Think about this for a minute. Silicon Valley venture capitalists have put a few billion into Snapchat privately (after three or four earlier rounds of financing) and they're counting on an IPO to cash out at 10 or even 20 times their money. The only way that happens is to convince you – the retail investor – that it's "worth" the risk by offering shares to the hoi palloi," Money Morning Chief Investment Keith Fitz-Gerald said on Nov. 21.
And the second reason is retail investors absorb most of the risk of owning an IPO.
At its 52-week high price, TWLO stock climbed to $70.96 per share on Sept. 29. But it's plummeted 56% since, opening today at $31.05. If you waited to invest in TWLO or bought more shares at this price, you may have lost more than half your investment.
But wealthy investors and large institutions have still made a lot of money even with the price drop. Wealthy investors have still profited by 107% since their original investment of $15.
"When you buy shares of a publicly traded company, you are paying what the market will bear and you risk everything. There isn't an investment banker on the planet who gives a damn about whether or not the investing public makes a dime on the IPO," Fitz-Gerald said.
We know investors may still have a lot of questions about the Uber IPO. That's why we made this guide for the Uber IPO to provide you with all the information you need.
Follow Money Morning on Facebook and Twitter.