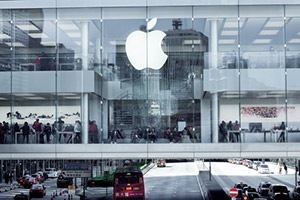 With a plan to have 100% of its energy come from renewable resources, Apple is investing in Chinese wind power to reach its goal a little faster.
Apple Inc. (Nasdaq: AAPL) reportedly struck a deal with China's biggest wind-turbine manufacturer, Goldwind, on Dec. 7. Apple will own a 30% stake in three of Goldwind's subsidiaries, but didn't disclose how much it paid for its stake.
The wind project will add 285 megawatts of clean energy to China's grid. The tech giant said this will offset some of the other power sources used by Apple and its suppliers.
Trending News: The Best Apple Supplier Stocks to Buy Ahead of the 2017 iPhone
Right now, Apple uses purchase agreements in the power industry to buy renewable energy from wind and solar energy developers. Then it sells the energy back at a wholesale price. Apple then receives renewable energy credits, which it can use for nonrenewable energy.
While helping Apple reach its own renewable energy goals, this investment is also in-line with the goals of the Chinese government. Beijing wants to increase its solar capacity to 140 gigawatts, which would be three times higher than gigawatt levels in 2015.
According to Quartz, this could help insulate Apple from government protectionist tendencies as sales wane in China.
This is a growing trend for tech companies, where Alphabet Inc. (Nasdaq: GOOGL) and Facebook Inc. (Nasdaq: FB) have said they want to use 100% renewable energy. Microsoft Corp. (Nasdaq: MSFT) has claimed to be completely powered by 100% renewable energy since 2014.
Rare Gold Anomaly: An event so rare, it's only happened twice in 20 years! The first time it created $1.25 billion in new wealth virtually overnight. The second time, it created a cash windfall of $6 billion. And it's about to happen again. Find out more.
Follow Money Morning on Facebook and Twitter.