A 2017 stock market crash could be on the horizon, as the Fed is expected to raise interest rates this week.
Interest rates have been at historically low levels - less than 1% - since 2008. Such low interest rates are part of the reason the stock markets have been breaking all-time records. Last week (Thursday, Dec. 1) the five major stock indexes in the United States closed at record highs, an event that hasn't happened since 1998.
But the Fed is almost certainly going to raise interest rates at the next FOMC meeting. According to the CME FedWatch Tool, there is a 97% chance the Fed raises rates this week. And that could pop this stock market bubble.
This is how higher interest rates could cause a stock market crash in 2017 and how to protect your money when it happens...
Will There Be a 2017 Stock Market Crash?
A stock market crash can be disastrous for your investments.
Nearly $2 trillion in retirement investments were wiped out during the 2008 stock market crash. Similarly, the value of the Dow plunged by 86% during the 1929 stock market crash.
And we are seeing some of the same warning signs exhibited before each of these historic stock market crashes.
Speculative investing fueled the stock market of the Roaring '20s. Average investors were even taking out loans - nearly $125 billion worth - to wager on the stock market. Not only did this fuel the 329% gains of the Dow through the 1920s bull market, but it meant investors were not able to endure any losses.
Once stocks began to dive, investors panicked and sold everything, crashing the market.
Similarly, speculation was inflating the housing bubble ahead of the 2008 stock market crash. As home prices soared, more buyers entered the market to take advantage of the rising prices. Banks were lending to anyone, too. As long as prices rose, home buyers could refinance loans and afford the payments.
But housing prices eventually fell. And many home owners sold in a panic or were forced to foreclose, crashing the housing market and the stock market along with it.
And we've found evidence of this sort of speculation today. Except this time it's being fueled by the Fed.
The Fed slashed rates to below 1% after the 2008 financial crisis to try and stimulate the economy. Low interest rates means borrowing money is cheap. The Fed hoped this would cause corporations to finance more spending and grow the economy.
It worked. Corporations have been financing spending, but it's just been on their own stocks.
Since rates were slashed in 2008, corporate debt has surged to nearly $1.91 trillion as corporations have repurchased $2.2 trillion of their own shares. This level of buying has helped boost the stock market, but it can't last...
When the Fed raises interest rates next week, there could be a stock market correction. But investors can be prepared for the worst-case scenario. You can protect your money during a crash, and profit, too...
How to Protect Your Money from a Stock Market Crash
Gold is one of the best investments to make during a stock market crash.
During the 2008 stock market crash, gold held its value. The S&P 500 plummeted 36%. Gold dropped a bit - 9% - and then returned to the value it had before the crash, roughly $800 per ounce.
Investors who had placed money in gold before the crash ultimately didn't lose a thing. Investors in the S&P 500 were down 36%.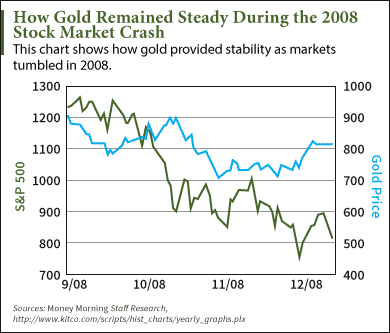 The chart to the left shows how gold performed against the S&P 500 during the 2008 stock market crash. As you can see, the S&P 500 plunged, and while gold dipped, it held its value.
That's why Money Morning Global Credit Strategist Michael Lewitt thinks investors should keep 10% to 20% of a total portfolio in gold.
Buying gold can be easy, too. The most convenient way to buy gold is to purchase an ETF backed by physical gold.
Money Morning likes iShares Gold Trust (NYSE Arca: IAU). IAU is connected to the price of physical gold. And since it's an ETF, investors can purchase it just like any other stock.
Gold is great to have during times of volatility, but shares of IAU have risen roughly 10% in 2016. It's a solid investment all around.
Editor's Note: A completely unique gold play is forming in the markets. And it's so rare that it's only the third time in 20 years that it's happened. If you get in now, you could see a share of upwards of $13 billion in cash windfalls. Read more.
While gold will help keep your money safe during a crash, some investors want to take advantage of the panic and profit. Here's how...
How to Profit from a Stock Market Crash
To profit during a crash, Money Morning Capital Wave Strategist Shah Gilani recommends ProShares Short S&P 500 (NYSE Arca: SH).
SH is an ETF that shorts the S&P 500. This means its prices are designed to rise as the S&P 500 falls. And because it's an ETF, investors don't have to take on the risk of shorting a traditional stock.
However, Gilani says investors need to buy SH right before a crash occurs to realize any gains. If they continue to hold it, a rising market will erase any increases in SH.
SH is a type of insurance policy against a potential 2017 stock market crash, not a stock to buy and hold long term. But if investors time it right, it can make them a lot of money.
SH will help investors make a short-term profit, but stock market crashes are also tremendous stock-buying opportunities. By focusing on the right companies and key trends, investors can see huge gains over the long haul. These are some of the stocks we recommend for long-term gains...
Best Stocks for a Stock Market Crash