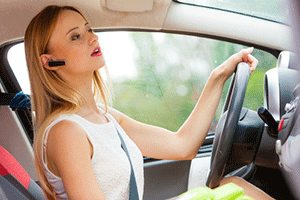 Even though Uber just launched in 2009, it's grown so quickly and become a household name because of the huge list of Uber investors.
The company was once thought of as a fad, but co-founders Travis Kalanick and Garret Camp knew there was a market for mixing technology with transportation. During a snowy evening in Paris in 2008, Kalanick and Camp had trouble getting a ride.
They wished they could just press a button and have someone pick them up. That idea has now turned into a company valued at $66 billion.
And these are the major investors that have helped Uber reach that valuation…
List of Major Uber Investors
Uber has expanded so rapidly because of massive funding rounds that have raised over $11 billion in capital.
Here's where the bulk of Uber's private investment capital has come from:
October 2010: First Round Capital (Angel) – $1.25 million
February 2011: Benchmark Capital (Ser A) – $11 million
December 2011: Menlo Ventures (Ser B) – $37 million
August 2013: Google Ventures (Ser C) – $258 million
June 2014: Fidelity Investments (Ser D) – $1.4 billion
December 2014: Glade Brook Capital Partners (Ser E) – $1.2 billion
January 2015: Goldman Sachs (Debt Fin) – $1.6 billion
February 2015: Glade Brook Capital Partners (Ser E) – $1 billion
July 2015: AppWorks/Microsoft (Ser F) – $1 billion
August 2015: Tata Cap. (Pr. Equity) – $100 million
February 2016: Letterone Holdings SA (Pr. Equity) – $200 million
June 2016: Saudi Arabia's Public Investment Fund (Pr. Equity) – $3.5 billion
July 2016: Morgan Stanley (Debt Fin) – $1.15 billion
August 2016: Didi Chuxing (Pr. Equity) – $1 billion
Investors like Lone Pine Capital, BlackRock, and Jeff Bezos of Amazon.com Inc. (Nasdaq: AMZN) are also heavily invested in Uber.
Trending Story: Your Snapchat Stock Guide Before Snap Goes Public
And these backers are willing to spend so much money on Uber because they believe revenue will skyrocket…
How Much Is Uber Worth?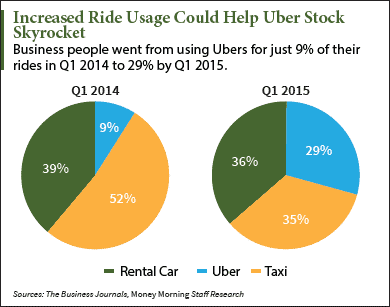 Uber's 2014 bookings were $2.93 billion. That's impressive, considering the company started in 2009. But in Q2 2016 alone, Uber booked $5 billion.
Also in Q2, the company recorded revenue of $1.1 billion.
And part of the reason for Uber's increased bookings is more businesspeople using Uber. In Q1 2014, only 9% of businesspeople used Uber.
However, that number climbed to 29% of businesspeople using Uber in Q1 2015.
But despite growing its business, the ride-sharing company still has obstacles to overcome before the Uber IPO date…
Uber's Biggest Threats Before the IPO
Uber's biggest threats are lawsuits and competitors.
Uber has been sued by drivers multiple times since its inception. Drivers want to be treated as employees as opposed to as independent contractors, which could cost the company as much as $4.1 billion annually, according to Fortune.
If this happened, Uber's current business model wouldn't be sustainable.
Uber's second-biggest threat before the Uber IPO is Tesla Motors Inc. (Nasdaq: TSLA).
On July 20, 2016, Tesla CEO Elon Musk announced he wanted to turn Tesla vehicles into self-driving taxis. Musk said when Tesla cars weren't in use, they could drive around, pick up passengers, and earn their owners money.
In addition, Musk also said Tesla would operate its own fleet of self-driving vehicles. If Uber wants to compete with Musk, it will have to pay for self-driving technology as well as vehicles.
That means Uber could be less profitable before its IPO because it has to make large investments to keep up with Musk.
And this leads us to the most important question…
Should I Buy Uber Stock?
Investors should be cautious before investing in Uber stock.
That's because the biggest gains on an IPO are always made by big institutions and wealthy investors. They have a chance to buy an IPO at a cheaper price than retail investors.
"When you buy shares of a publicly traded company, you are paying what the market will bear and you risk everything. There isn't an investment banker on the planet who gives a damn about whether or not the investing public makes a dime on the IPO," Money Morning Chief Investment Keith Fitz-Gerald said on Nov. 21.
A great example of this was the Twilio Inc. (NYSE: TWLO) IPO…
Wealthy investors were able to snatch up shares of TWLO for $15 per share before the IPO. When retail investors were finally able to buy TWLO stock on June 23, the opening price was $23.99.
Wealthy investors made a nice profit of 56% as soon as the stock traded to the public.
And after the hype dies down, retail investors have to worry about pullbacks in the stock price.
For example, the Facebook Inc. (Nasdaq: FB) stock price dropped 57% in the five months after its 2012 IPO. Also, TWLO stock has dropped from its 52-week high price of $70.96 on June 23, 2016, to $30.60 per share Friday (Dec. 9) morning.
Investors who bought in at that inflated price are now down 56%.
Until Uber proves it's worth your money, investing in Uber should be treated as a speculative investment.
We know investors may still have a lot of questions about the Uber IPO. That's why we made this guide for the Uber IPO to provide you with all the information you need.
Follow Money Morning on Facebook and Twitter.