(Kitco News) – The feature in the marketplace to start the trading week is sharply higher crude oil prices. Nymex crude oil futures prices hit a 16-month high of $54.51 overnight and are up by over $2.00 a barrel in early U.S. trading.
OPEC and non-OPEC oil producers on Saturday came to an agreement to cut their collective oil production by just over a half-million barrels a day, which does not include the 1.2 million barrels a day that OPEC already agreed to cut in September. Reports said the combined cuts represent about 2% of the world oil supply.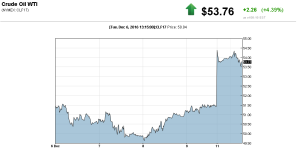 World stock markets were mostly weaker Monday, on corrective, profit-taking pullbacks from recent solid price gains that put several world stock indexes at multi-year or even record highs. Asian stock markets also felt selling pressure due to China's crackdown on stock purchases by insurance companies and by comments from U.S. President-Elect Donald Trump, who questioned the U.S. "one China" policy that has been in place for over 40 years.
U.S. stock indexes are pointed toward steady to weaker openings when the New York day session begins.
Gold prices hit another 10-month low overnight amid a lack of fresh, bullish fundamental news for the safe-haven metal, whose prices have been trending sharply lower for the past month.
U.S. Treasuries prices are lower Monday, with the yield on the benchmark 10-year Treasury note climbing above 2.5% for the first time in two years.
The sharp gains in oil prices are prompting keener notions of rising inflation, and that's bearish for fixed-income assets.
The marketplace is looking ahead to this week's U.S. Federal Reserve FOMC meeting, which begins Tuesday morning and ends Wednesday afternoon with a statement. Most believe the Fed will raise interest rates for the first time in a year. In fact, the Fed funds futures market shows a 100% chance the Fed will raise U.S. interest rates this week.
There is no major U.S. economic data due for release Monday.
The spot gold market is started the week with renewed weakness as prices traded lower overnight, hitting a session high at $1,159.60 an ounce and a session low at $1,151.10 an ounce.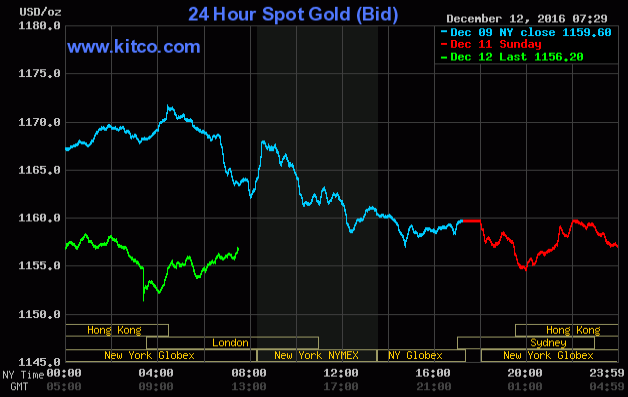 By Jim Wyckoff, contributing to Kitco News; jwyckoff@kitco.com
Follow Jim Wyckoff @jimwyckoff for breaking market news.