According to President-elect Donald Trump, Lockheed Martin Corp.'s (NYSE: LMT) F-35 costs are "out of control." Once again, his tweet with that message has moved the market…
The real estate mogul took to Twitter this morning to air his grievances about the major aerospace defense company, claiming that "billions of dollars can and will be saved on military (and other) purchases" once he assumes office in January.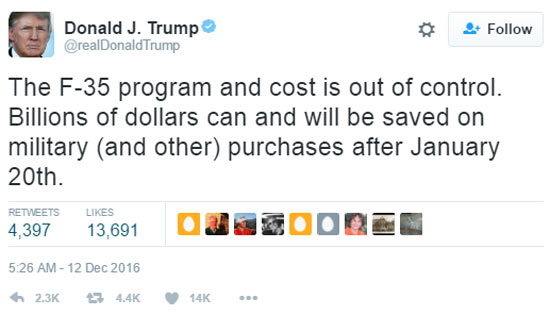 Shares of Lockheed Martin stock immediately plunged more than 4% this morning – from approximately $259 down to roughly $248 – following the Twitter post. The tweet shaved roughly $4 billion off the company's market cap.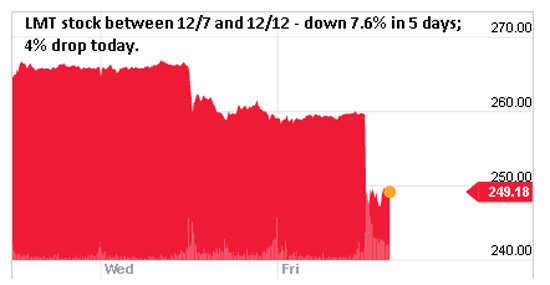 Trump's early morning social media admittance today came just five weeks after he, alongside representatives from both the Pentagon and Lockheed, concluded negotiations on a ninth contract for F-35 fighter jets worth more than $6.1 billion.
Don't Miss: The Three Best Defense Stocks to Buy in 2017
A Lockheed rep reminded Trump of that contract this morning, stating that the company has already invested millions of dollars to reduce the F-35 price, Reuters reported.
While some investors have expressed concerns about Trump's tweet and its effect on LMT today, there's absolutely no reason to panic.
The stock's drop was just a classic emotional pullback, after all…
Despite Donald Trump, Lockheed Martin Is a "Must-Have" Investment