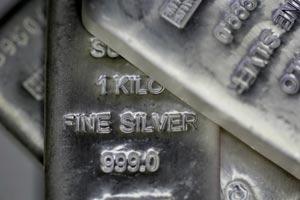 After the FOMC meeting on Dec. 13-14, our new silver price prediction shows the price of silver rising substantially.
In fact, Money Morning Resource Specialist Peter Krauth believes that silver prices could rise to the mid-$20 level within six to nine months.
We'll look more closely at Krauth's 2017 silver price prediction in just a moment. But first, let's look at what to expect at the FOMC meeting this week...
What to Expect During the Upcoming FOMC Meeting
Investors widely project the U.S. Federal Reserve will raise interest rates this week. According to the CME Group's FedWatch Tool, there's a 97% chance of a rate hike on Wednesday.
Now, the rate hike would be small -- just 0.25%. And that would bring the fed funds rate up to between 50 and 75 basis points. If the Fed chooses to raise interest rates now, its moves will closely mirror the timing and size of its last interest rate hike, which also occurred in December and was just 0.25%.
Don't Miss: This gold anomaly could create windfalls of $13 billion. And you can get in on the action. Here's how...
When the Fed raises interest rates, it makes the dollar look more appealing. And since the dollar directly competes with silver, this can put some downward pressure on silver prices in the short term. Higher interest rates also boost the attractiveness of other non-commodity investments, like certificates of deposit and savings accounts. That's because after a rate hike, investors can generally earn a higher rate of return with these investments.
That being said, silver will always retain its safe-haven appeal. And that's something unique to the precious metal.
So whether interest rates are going up or down, it's always a smart idea to own silver in case we enter another bear market or recession.
And the FOMC meeting, while a short-term headwind for silver prices, will not hold back the precious metal in 2017.
In fact, we see the price of silver rising double digits early into the new year because of a key economic indicator.
And that's just the beginning...
Our Silver Price Prediction for After the FOMC Meeting