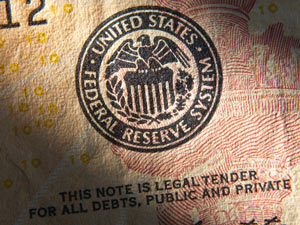 Barring any major market-moving event, it's all but certain we'll see a Fed rate hike this week. So what exactly will a December Fed rate hike mean for investors?
A rate hike following the December FOMC meeting will probably not mean too much for the markets in the short term. But the long term is a different story...
You see, U.S. Federal Reserve policymakers have been telegraphing that a rate hike is highly likely at the December FOMC meeting. Minutes from the Fed's November meeting revealed that the Fed thought it would be prudent to raise rates "in the near term." The minutes also showed that some participants have grown concerned about the Fed's credibility and that a move at the next meeting is needed to preserve what's left of it.
Market odds of a 0.25% rate hike Wednesday sit at 97.2%, according to CME Group's FedWatch Tool.
As a result, investors, traders, and economists have gotten used to the idea that a rate hike is imminent. The likelihood of only the second interest rate hike since the financial crisis is most likely baked into markets.
Interest rate moves can be market-moving events, just take last year's...
Trending: Get the Best Investing Research Today to Grow Your Money
When the Fed raised rates last December for the first time in nine years, the Dow jumped 224 points. The S&P 500 and the Nasdaq each advanced about 1.5%, pushing the S&P 500 into positive territory for the year. But once the calendar flipped to 2016, stocks endured their worst start ever to a year. In the first six weeks of 2016, the Dow Jones Industrial Average fell almost 10%.
This time around, however, we have the Trump effect.
President-elect Donald Trump's pledge to cut taxes, boost spending, restore growth, and relax financial regulations has investors piling into stocks. Last week, the Dow logged a record each day. The Dow is up 8% since Trump's win. The S&P 500 and Nasdaq have also hit milestones and are up 11% and 9% since Election Day, respectively.
The post-election rally has added nearly 7%, or $1.7 trillion, to the value of U.S. stocks.
And Trump hasn't even taken office yet...
Some economists believe that the U.S. central bank must be more aggressive in its interest rate path based on Trump's growth plan.
That's why Fed Chair Janet Yellen's statement and press conference following the December FOMC meeting are so important...
What a December Fed Rate Means for Markets