The price of oil today (Monday, Dec. 12) surged to a new record high in 2016.
The WTI crude oil price is currently $53.21, up nearly 3.3% today, a new high for 2016. Brent crude prices have also surged to a new 2016 record. The price of Brent crude oil is $56.04 a barrel, up 3.15%.
Since the OPEC agreement last month, the price of oil has continued to rise. WTI crude oil prices have risen 17.8% since the Nov. 30 OPEC meeting, and the Brent crude price has jumped 21.1% in the same time.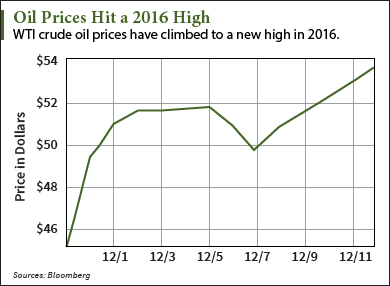 The chart to the right shows how crude oil prices have soared since the Nov. 30 agreement.
The landmark agreement - the cartel's first since 2008 - will lead to a cut in oil production from member countries. By cutting production, the cartel will be able to better control oil supply and push oil prices higher. That's why the agreement injected a dose of optimism into oil markets.
But oil prices today have continued to climb since the agreement was announced. Here's why...
Why the Price of Oil Today Is Up
Even though OPEC agreed to cut oil production on Nov. 30, the cartel still needs other countries to participate for the plan to work.
Our oil price prediction says the OPEC agreement could lead to $60 a barrel in 2017. But Dr. Kent Moors, Money Morning's Global Energy Strategist, said Russia's participation was one of the biggest obstacles standing in the way of higher crude oil prices.
On Saturday (Dec. 10), Russia agreed to cut its oil production by 558,000 barrels a day.
Russia, the world's second-largest oil producer, is a necessary participant for the OPEC agreement to be successful. While Russia was initially part of the OPEC agreement in Algiers on Sept. 28, it had not participated in an OPEC production cut since 2001. Russia had also become less involved in negotiations leading up to the Nov. 30 meeting.
Get Our Best Wealth-Building Ideas: Money Morning's top 5 investment reports to grow your money like never before are right here - and they're absolutely free. Read more...
Russia was expected to cut 660,000 barrels a day, but its 558,000 barrels a day is still the largest cut made by a non-OPEC member ever, according to CNBC. That has oil traders even more optimistic.
And it wasn't just Russia that signed on. Non-OPEC members who agreed to work with the cartel included other major oil producers, like Oman, Bahrain, Mexico, and Malaysia.
While Russia and other non-OPEC members agreeing to participate is good news, there are still plenty of obstacles ahead for higher crude oil prices...
More Obstacles to Higher Crude Oil Prices