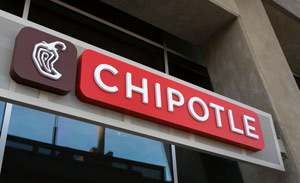 Most-hated companies 2016: Over the past year, companies have lied, poisoned, and taken advantage of consumers like you - and the media pounced:
"Mylan's Outrageous EpiPen Price Hikes: How Many Children Will Suffer?" - Forbes, September
"Wells Fargo Is a Wake-Up Call for All Bank Customers," - CBS, October
Unfortunately, there were a lot of disappointing companies to choose from. We picked the worst of the worst. Check out our list of the most-hated companies of 2016...
Most-Hated Companies 2016 No. 5: Chipotle Mexican Grill Inc. (NYSE: CMG)
Chipotle's problems all started in July 2015 with an E. coli outbreak...
Then, in August, a norovirus outbreak...
One month later, reports of Salmonella...
As a result, over 500 customers were sickened this past year, according to Reuters on Sept. 8.
"I trusted they were providing me with 'food with integrity,'" said Chris Collins, one of the 53 people who fell ill from E. coli after eating Chipotle in 2015, as reported to Bloomberg on Dec. 22. Collins has since sued the company for damages.
He wasn't the only frustrated customer to seek legal action...
Since the outbreaks, Chipotle has settled over 100 claims from customers who got sick after eating at the chain, and still faces a federal criminal probe and a civil lawsuit over allegations it misled investors about its food-safety protocols, according to Reuters on Sept. 8.
It looks like investors are hating the company, too. Shares of CMG are down 23% year to date (YTD).
Most-Hated Companies 2016 No. 4: Wells Fargo & Co. (NYSE: WFC)
Wells Fargo became the target of nationwide fury in September after it was revealed account executives opened up over 2 million fraudulent accounts without customer consent.
Reports revealed that several employees who tried to alert the company's ethics hotline about the unethical selling practices were fired.
But Wells Fargo CEO John Stumpf blamed his company's massive scandal on "a few key employees" and neglected to acknowledge the high-pressure company sales culture that arguably fueled the scheme.
"The fact that [Stumpf] waited so long to say anything at all - and then the first thing he said is 'it's the employees fault?' Obviously, yes, it is the employees who created the accounts. But there's something wrong with the internal system if this went on for five years and involved at least 5,300 employees," financial expert Melissa Arnoff told The Daily Gazette on Sept. 17.
Year to date, shares of Wells Fargo have surprisingly increased 2.94%. But it's to be determined if the bank will ever fully regain consumer trust...
Currently, the company has a mere one-star rating out of five stars on the Consumer Affairs website, and over 1,840 negative reviews and complaints.
Most-Hated Companies 2016 No. 3: Abercrombie & Fitch Co. (NYSE: ANF)
The award for America's most-hated retailer goes to....
Abercrombie & Fitch.
Apparently, the company's "sexy" image isn't working anymore.
Don't Miss: These Failing Companies Will Finally Disappear in 2017
The teen clothing retailer scored the lowest on the American Customer Satisfaction Index released on Feb. 23. The company scored a 65, which is almost 10 points below the industry's overall score.
Experts blame the company's failure to adapt to millennial trends as the main reason for the failure.
"[Low sales reflect] the company's failure to adapt its exclusive 'pricy preppy' aesthetic to the tastes (and financial constraints) of socially conscious millennials," analyst John Eade explained to Benzinga on Sept. 16.
"Abercrombie and Fitch might be desperately trying to rewrite its image by trading out the logo and revamping its controversial 'models only' hiring policy, but the retailer is still one of the most disliked brands in America," according to Forbes on Feb. 25.
ANF stock is down more than 42% YTD.
Most-Hated Companies 2016 No. 2: Mylan NV (Nasdaq: MYL)
The company infamous for raising the price of a life-saving medication delivery device by over 400% is our second most-hated company of 2016.
Year to date, Mylan has seen share prices nose-dive over 35% - from $51 in December 2015 down to $34 in December 2016.
Perhaps the most shocking thing about Mylan is not only the skyrocketing cost of the medicine, but the exuberant increase in the salary of CEO Heather Bresch. Bresch's salary during her time at Mylan has increased by over 670% to $18.9 million, Fortune reported Sept. 1.
Bresch has shown little concern over the effects of her pricing strategy for the device, which has prescription numbers over 3.6 million, according to The Washington Post on Aug. 25.
"Look, we're going to continue to run a business. And we're going to continue to meet the supply and demand of what's out there," Bresch commented to CNBC's "Squawk Box" on Aug. 25.
As disgraceful as Mylan's pricing strategy may be, this next pharmaceutical firm is hated even more - and makes our list for the second year in a row...
Most-Hated Companies 2016 No. 1: Valeant Pharmaceuticals International Inc. (NYSE: VRX)
The troubled pharmaceutical company is deeply loathed by both consumers and investors alike.
Valeant's demise started when Sen. Bernie Sanders (D-VT) called national attention to the company's sketchy pricing practices in August 2015. That's when he sent a letter to Valeant demanding an explanation of the company's recent price hikes of two common heart drugs: Isuprel and Nitropress. The company jacked up the drugs' prices a shocking 600% and 300%, respectively.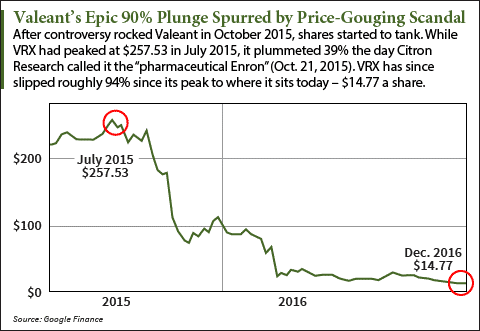 Shortly after Sanders' vilification, 18 Democrats called for a subpoena of the company, causing shares to drop a whopping 16% - from $203 down to $174 in just one day.
Money Morning Global Credit Strategist Michael Lewitt - who often recognizes company failure before the public even does - called the collapse of the pharma giant on Oct. 4 and alerted investors to get out.
He warned them just in time...
On Oct. 22 of last year, it was revealed that the company was using specialty pharmacy Philidor to trick consumers into purchasing Valeant's over-inflated drugs at high costs.
Soon after they got caught, Valeant announced that it would be cutting ties with Philidor.
But it seems that the split was not enough to restore faith in the pharma giant...
Year to date, shares of Valeant Pharmaceuticals have plummeted by a massive 85%.
Do you agree (or disagree) with the companies we included in our annual "most-hated companies" list? Send us a tweet @moneymorning or leave a comment on our Facebook page.
Up Next for You:
Outrageous Profit Potential from Three of the World's Worst Companies
The 5 Top Pharma Companies Behind the World's Most Expensive Drugs