Investor anxiety is high over the possibility of a stock market crash after the FOMC meeting this week.
Stock markets have been in a 7.5-year-long bull market, trending upward since March 2009 with only a few brief pullbacks along the way. But low interest rates set by the U.S. Federal Reserve have helped fuel this bull market.
And since the election, the major stock indexes have been on a record-breaking tear.
On Dec. 1, nearly a month after the election, all five major U.S. stock indexes closed at record highs, a feat that hasn't been achieved since 1998. The Dow has closed at a record high for six days in a row.
But these outrageous numbers don't excite everyone. Instead of the market growing organically, this post-election market surge shows the market might be overheating.
"This rally has many of the earmarks of a blow-off driven by emotion rather than economic fundamentals," Money Morning Global Credit Strategist Michael Lewitt said.
According to Lewitt, these types of "emotional rallies" tend to fall hard.
Such drastic highs, unsupported by economic fundamentals, mean the Fed could set off a stock market correction when it raises interest rates on Wednesday.
That's why we're showing you how to protect your money when the market does correct. Before we get to that, here's how the Fed has fueled our booming stock markets and why investors need to be prepared for a potential stock market crash in 2017...
Low Interest Rates Have Fueled a Stock Market Bubble
Interest rates were slashed from 5.25% in 2007 down to 0.25% by the end of 2008. The Fed kept rates at 0.25% until last year, when it raised them to 0.50%.
The chart below shows how steeply interest rates fell and how long they've been kept under 1%.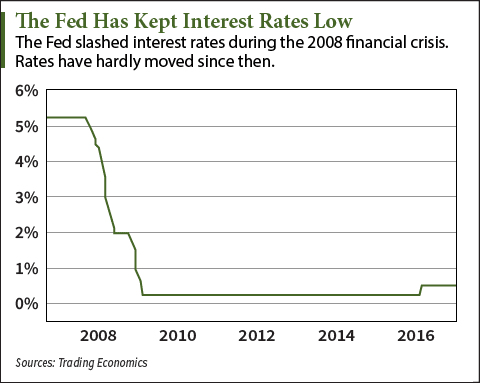 And since interest rates were slashed, stocks have been booming.
Between the last rate cut in October 2008 and today, the Dow has exploded for 135% gains.
This year alone, the Dow has smashed through eight record closes and hit its all-time high of 19,951.55 today (Tuesday, Dec. 13). The Dow is nearing the 20,000 mark less than a month after breaking 19,000 for the first time.
Similarly, the S&P 500 set a new record high on Dec. 12. This was a little more than a week after all five major indexes closed at their record highs on the same day.
This sort of growth is part of the reason the Fed slashed interest rates in the first place. When the Fed cut interest rates in October 2008, its official statement explained its decision to lower rates was meant to stimulate economic growth.
The Fed's logic is if interest rates are low, borrowing money is cheaper, and corporations and entrepreneurs will be more willing to take on debt to fund new ventures, growing the economy in the process.
But it was only half right.
Corporations have certainly taken advantage of cheap borrowing costs, borrowing $1.91 trillion between 2008 and 2015, according to a Reuters report. But corporations have used the money to purchase $2.24 trillion of their own stock.
This level of spending has helped drive up share prices and reward shareholders, but it hasn't led to the sort of economic growth envisioned by the Fed in 2008. Instead, this has led to overvalued stocks.
Don't Miss: Rare gold anomaly - an event so rare, it's only happened twice in 20 years! And it's about to happen again. Find out more.
The earnings per share of companies on the S&P 500 have risen only 4.9% above their pre-crash levels in 2007. During the same time period, the S&P 500 has risen by over 50%. This shows low interest rates have had a bigger impact on share prices than on overall economic growth.
That means when interest rates are raised and borrowing is no longer cheap, the markets could pull back.
And the Fed is going to raise interest rates this week...
The Stock Market Could Correct After the FOMC Meeting
Last December, the markets responded to the first rate hike in seven years with a month-long slump.
The chart below shows how the three major indexes reacted to the rate hike after the FOMC meeting on Dec. 15, 2015. In the days after last year's FOMC meeting, the markets appeared steady before falling steadily through January.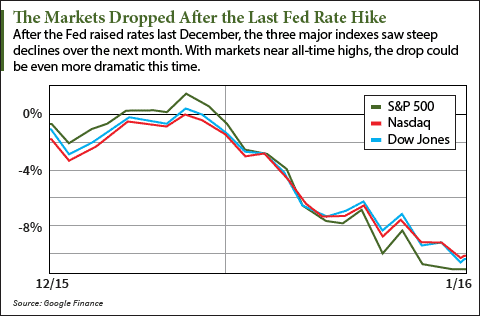 In the month after last year's rate hike, the Nasdaq fell by 10%, the Dow fell 9%, and the S&P 500 fell 8%.
Because the consequences of low interest rates could prove disastrous, the Fed has been a target of harsh criticism.
During the campaign, President-elect Donald Trump criticized Janet Yellen for keeping interest rates low for political reasons, arguing the "only thing that is strong is the artificial stock market."
"They're keeping rates down because they don't want everything else to go down," Trump said.
Earlier in the campaign, Trump described higher interest rates as "scary" based on what they could do to the economy.
Yet, the Fed must raise rates or it won't have any tools left to combat another recession or economic collapse. That's why the Fed will continue to raise rates on Wednesday, Dec. 14. Basically, by raising rates, it's giving itself the option to cut them again in an emergency.
The CME FedWatch Tool shows a 95.4% probability of a rate increase this week. That would bring the fed funds rate to a range of 0.5% to 0.75%.
Now that the FOMC is set to raise rates at a time stock markets are overheating, the possibility of a 2017 stock market crash is on many investors' radars. That's why we want investors to be prepared for any market pullback or stock market crash...
How to Protect Your Money During a Stock Market Crash