(Kitco News) - The marketplace is awaiting what is arguably the most important economic event of the month: the U.S. Federal Reserve FOMC meeting, which begins Tuesday morning and ends Wednesday afternoon with a statement. Most believe the Fed will raise interest rates for the first time in a year.
In fact, the Fed funds futures market shows a 100% chance the Fed will raise U.S. interest rates this week. With a Fed rate hike so fully expected, markets have mostly factored it into their price structures. Thus, don't be surprised to see many markets show a "buy the rumor, sell the fact" scenario following the actual announcement of the Fed rate hike.
Gold prices are weaker again Tuesday morning and trading not far above the recent 10-month low. Bears remain in firm control of the safe-haven metal.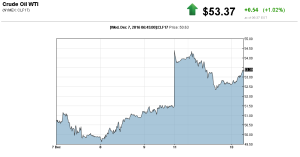 The key "outside markets" on Tuesday see Nymex crude oil prices trading firmer, on some follow-through strength after spiking to a 16-month high on Monday and then backing off the high by the close. The U.S. dollar index is trading modestly higher in early U.S. trading. The greenback bulls remain technically strong.
U.S. Treasuries prices are firmer Tuesday, with the yield on the benchmark 10-year Treasury note trading near 2.5%. World bond markets have stabilized Tuesday after seeing price pressure on Monday.
In overnight news, China got some upbeat economic data Tuesday when the value-added industrial output report showed a 6.2% rise in November, year-on-year, compared to a reading of up 6.1% in October. The November reading was slightly better than market expectations. This report is said to be a proxy for China's GDP report.
The closely watched German ZEW economic sentiment index came in at 13.8 in December, which was unchanged from the November reading. The December number was below market expectations, mainly due to concerns about the Italian financial system following the recent "no" vote on constitutional reforms in Italy.
U.S. economic data due for release Tuesday is light and includes the weekly Johnson Redbook and Goldman Sachs retail sales reports, and import and export price indexes.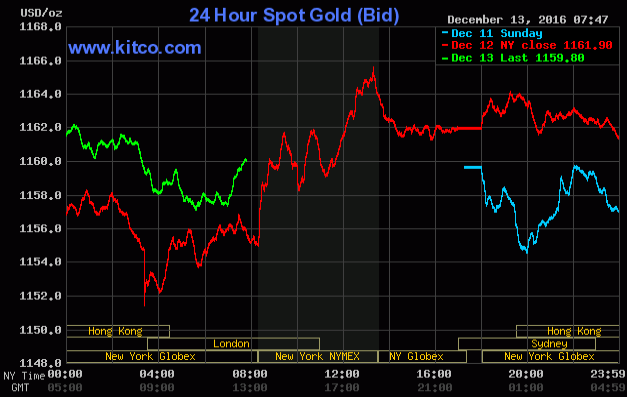 By Jim Wyckoff, contributing to Kitco News; jwyckoff@kitco.com
Follow Jim Wyckoff @jimwyckoff for breaking market news.