This year has been something of a tease for gold investors – but our gold price prediction for 2017 sees the yellow metal going much higher.
Gold prices started the year on a tear. By July, the spot price of gold had reached $1,364.80 an ounce, a 28.72% jump from the start of 2016.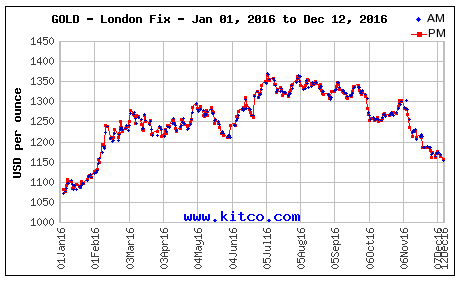 Many gold analysts were convinced this rapid rise in gold prices signaled the start of a new gold bull market.
But then gold reversed direction…
Since that July 6 peak, gold prices have slipped 15% to $1,160, raising questions about whether gold's bear market – which started in September 2011 — was really over.
And Wall Street's gold price predictions for 2017 have clarified little…
Gold Price Predictions for 2017: Take Your Pick
Several bank analysts, including those at Credit Suisse Group AG (NYSE ADR: CS), Societe Generale (OTCMKTS ADR: SCGLY), and UBS Group AG (NYSE: UBS), all have average gold price forecasts for 2017 of $1,300 or higher.
But Dutch bank ABN Amro Group NV's 2017 gold price prediction sees the yellow metal sliding below $1,100 an ounce, while the gold price forecast of UK trading firm IG Group Holdings Plc. puts it below $1,000 by the end of the year.
And the 2017 gold price prediction from Citigroup Inc. (NYSE: C) is basically flat – a slight drop early in the year followed by a slight gain in the latter part of the year.
Don't Miss: Why Now Is the Best Time to Buy Gold in Five Years
But for long-term gold investors, what matters right now is that we're close to the end of the 2011 bear market. Whether the turnaround starts in January or later in 2017 doesn't matter that much, considering the gains that lie ahead…
Why a Gold Bull Market Is on the Horizon
First of all, the current gold bear market, at 62 months, is well beyond the average age of 50 months. It's due to reverse.
Gold prices are also near a typical bear bottom.
The bear market that started in 2011 has shaved 39% off the price of gold. The median of gold bear market losses since 1970 is 42.7% — pretty close to where we are now. But using the low of $1,060.30 an ounce set at the end of 2015, the deepest loss of the current gold bear market is exactly 44%.
This suggests that even if the ultimate low for gold prices lies in 2017, it won't be that much lower.
On the other hand, the next gold bull market will prove extremely profitable – as this next chart shows…