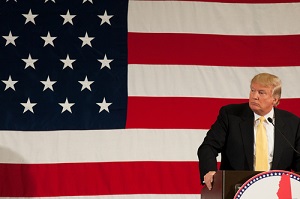 U.S. markets have rallied since Donald Trump's presidential victory on Nov. 8 and are now trading near record highs. That's why we're unveiling three new Trump stocks to buy now.
While many investors have piled into infrastructure and defense stocks since the election, Money Morning Chief Investment Strategist Keith Fitz-Gerald has found three different stocks that could all climb thanks to Trump's presidential win.
Before we get into the stocks to buy, here's a brief look at why the markets could continue higher…
Why the Stock Market Keeps Rallying
The Dow has climbed more than 9% since the election and is closing in on 20,000. Just yesterday, the index hit a record high of 19,953.75. The S&P 500, Nasdaq, Russell 2000, and Dow Transports are all trading near record highs, too.
Meanwhile, Fitz-Gerald has his investment sights set overseas – on China to be exact, which might seem strange to many.
You see, Trump has criticized China. Trump maintains the Asian nation hasn't played by the rules and that he is going to do something about it. But Fitz-Gerald notes the president-elect's acceptance of a congratulatory call from Taiwanese President Tsai Ing-wen was potentially a very profitable move for investors.
Here's why…
The Asian nation is home to 1.6 billion people and an increasingly more affluent middle class of more than 600 million. Chinese consumer consumption is growing double digits and at a clip that's more than double its GDP growth.
Flush with cash, eager to spend, and with a desire for what's "in," Chinese consumers and stocks with a leading presence there cannot be ignored.
"Simply put, anybody who bets against China long term is asking for trouble," Fitz-Gerald said. He adds that China is just coming up to speed, "which is why you want to find a way to play along."
Here's how Fitz-Gerald says to play the country that has boasted the world's largest economy for 18 out of the last 20 centuries. These are our three newest "Trump stocks" to buy…
3 Trump Stocks to Buy Now