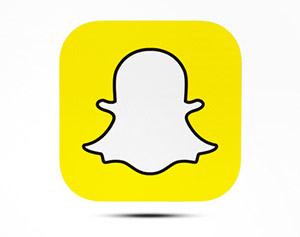 The Snapchat IPO date is set for the first quarter of 2017. March is the current target date for the Snapchat initial public offering (IPO).
While the current target date for the Snapchat IPO is set, a firm date has not been set, and it is not uncommon for IPO dates to move around.
The next question on investors' minds is whether Snapchat is a good investment. Here's an overview of Snapchat and investing in Snapchat...
What Is Snapchat Exactly?
Snapchat is a mobile app that allows users to send pictures, videos, and messages. One of its appeals, especially to its primary demographic of teenagers, is that you can personalize any message with cartoon doodles, add pictures, and create captions.
But the main attraction is that Snapchat's messages vanish in 10 seconds. If users want, they can be retained for a longer period of time, but the main idea is that conversations will have no trace.
Snapchat's popularity has been growing since being founded in 2011 because of the perceived increase in privacy. The selling point of disappearing messages has developed as more employers are researching candidates on social media platforms such as Facebook (Nasdaq: FB), not just on professional platforms like LinkedIn (NYSE: LNKD).
Concerns that employers would react negatively to Facebook shares, or that people would be unfairly penalized for messages and pictures posted to their network, led to a market for messages that would disappear. It was a Snapchat innovation that promised not only would vanishing messages be possible, they would be the default.
With a growing niche, acquisition has been on one company's mind in particular...
Why an Acquisition Is Not Likely
Facebook considered an acquisition in 2013, two years after Snapchat's launch. The social media giant offered to buy Snapchat for $3 billion, but the offer was refused.
Snapchat's appeal to Facebook is mainly focused around growing Facebook's market share in the social media sector. Snapchat offers different features that appeal to a younger demographic of millennials and teens.
Money Morning Director of Tech & Venture Capital Research Michael A. Robinson observes that Snapchat and Facebook do have synergies that go beyond being in the same market sector. The biggest synergy may be their glasses offerings. Snapchat's Spectacles and Facebook's Oculus could help bring virtual reality to the mainstream faster.
Despite potential synergies, Robinson thinks a Facebook-Snap deal is not ultimately likely for two main reasons.
The first reason is that Snapchat's turndown of the initial offer signals a desire to be independent.
Second, Snap Inc. co-founder Evan Spiegel is said to think that Snap's worth on the open market could be higher than the initial Zuckerberg offer. Robinson concurs, feeling that any future purchases of Snapchat could be worth two to three times the $3 billion offer of several years ago.
Strong revenue growth is a contributing factor for the increased worth as the Snapchat IPO date approaches.
Snap Inc.: Strong Revenue Growth
With the Snapchat IPO date approaching, it looks like it will be one of the hottest IPOs since 2014, when Alibaba Group Holding Ltd. (NYSE: BABA) hit the market and surged on strong demand.
The primary reason for all of the anticipation over Snapchat's IPO is expectations for skyrocketing revenue. This expectation of revenue growth is due to its explosive user growth of more than 50% last year, according to Fortune.
Get Our Best Wealth-Building Ideas: Money Morning's top 5 investment reports to grow your money like never before are right here - and they're absolutely free. Read more...
The main revenue driver is advertising on the Snapchat platform. The rate of swipe-ups, or ad engagement, is five times that of click-throughs on other social media platforms, meaning Snapchat users are more engaged with advertisers.
This higher engagement rate and growing user base should produce huge revenue growth over the next several years. Between 2014 and 2015, Snap Inc. saw an increase in revenue of more than 1,800%, from $3 million in 2014 to $59 million in 2015, according to Bloomberg.
This type of revenue growth is expected to continue. In 2016, projected revenue is $367 million. And by the time 2018 is done, Bloomberg expects revenue to total $1.76 billion.
Demographics are one of the major reasons for the rise. Young people from the under-12 group up to age 35 are the core of Snapchat's users. They are much more likely to use Snapchat than to use Facebook. Advertisers want both the consumer dollars and the brand loyalty of this young demographic.
The explosive revenue growth means a higher IPO price, but not necessarily a great stock value...
As the Snapchat IPO Date Approaches: Should I Buy the Snap IPO?
On the Snapchat IPO date, observers estimate that its total valuation will fall between $25 billion and $40 billion. Snap shares will likely be priced in a manner analogous to Facebook during its IPO, which was 19 times anticipated revenue in the 12 months subsequent to the IPO.
Given the expected revenue of $1 billion for 2017 and an expected valuation of $25 billion, Snapchat may trade at 25 times anticipated revenue.
Money Morning cautions that IPOs do not always trade on fundamentals. The stock is often bought first by institutional investors. The demand may bid the stock price up to levels unsustainable even for a healthy and growing company.
In addition, the tech sector, especially post-IPO, can be more volatile than most. Facebook shares fell by half after the IPO period was over.
Money Morning Chief Investment Strategist Keith Fitz-Gerald warns that Snapchat could be one of the most dangerous IPOs in history.
"Silicon Valley's hype machine has gone into overdrive in recent years and successfully convinced millions of investors that the only way they'll make a killing is to be on board or they'll miss out," Fitz-Gerald said on Nov. 21.
Any investor still interested in the Snapchat IPO needs to think through their goals and their individual risk tolerance. For investors still interested, Robinson suggests placing a limit order that will let you limit the price you are buying in at.
To answer all of your Snapchat questions, we put together a guide that covers everything you need to know as the Snapchat IPO date approaches.
Follow Money Morning on Facebook and Twitter.