(Kitco News) – World stock markets were mostly weaker in subdued trading Wednesday. U.S. stock indexes are pointed toward narrowly mixed openings when the U.S. day session begins.
The marketplace later today gets the results of what is arguably the most important economic event of the month: the U.S. Federal Reserve FOMC meeting, which began Tuesday morning and ends Wednesday afternoon with a statement. Fed Chair Janet Yellen will also hold a press conference after the statement is released at 2:00 p.m. EDT.
Most believe the Fed will raise interest rates for the first time in a year. In fact, the Fed funds futures market shows a 100% chance the Fed will raise U.S. interest rates today. With a Fed rate hike so fully expected, markets have mostly factored it into their price structures. Thus, don't be surprised to see many markets show a "buy the rumor, sell the fact" scenario following the actual announcement of the Fed rate hike. In gold and silver markets' case, it would be "sell the rumor, buy the fact."
Gold prices are trading modestly higher Wednesday on short covering in the futures market and bargain hunting in the cash market, after prices scored a 10-month low earlier this week.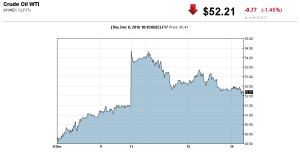 The key "outside markets" on Wednesday see Nymex crude oil prices trading weaker, on a corrective pullback after hitting a 16-month high Monday. The U.S. dollar index is lower in early U.S. trading, on some profit taking from recent gains. The greenback bulls are still technically strong.
In overnight news, the Euro zone's industrial output in October was reported down 0.1% from September and up 0.6%, year-on-year. Those numbers were a bit below market expectations.
Japan's closely watched Tankan quarterly survey showed a higher reading from the previous report. The weaker Japanese yen has helped out the Japanese manufacturing sector recently.
There is a heavy slate of U.S. economic data due for release Wednesday, including the weekly MBA mortgage applications survey, the producer price index, retail sales, industrial production and capacity utilization, manufacturing and trade inventories, and the weekly DOE liquid energy stocks report.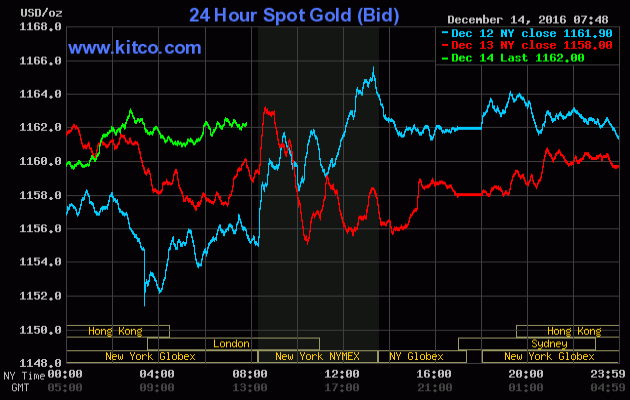 By Jim Wyckoff, contributing to Kitco News; jwyckoff@kitco.com
Follow Jim Wyckoff @jimwyckoff for breaking news alerts.