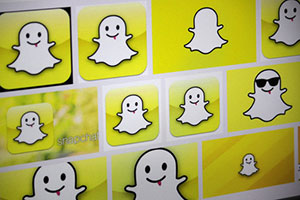 You could buy Snapchat stock as early as Q1 2017, which is why investors have been asking us, "Should I buy Snapchat stock?"
With 2016 having the fewest IPOs priced since 2009, investors are excited to buy stock in an exciting young company like Snapchat.
But the hype surrounding Snapchat stock doesn't make it a good investment. That's why today, we are going to share with investors:
The history of Snapchat
How Snapchat makes money
Snapchat's revenue projections
Snapchat's valuation
By knowing all this information, you will have a better understanding of whether Snapchat stock fits into your investment strategy. We will also provide a bonus Snapchat stock guide at the end of the article.
But first, here's a look at how Snapchat started and became so popular…
The History of Snapchat
Snapchat is a social media company like Facebook Inc. (Nasdaq: FB). Users can post pictures and videos of themselves.
But there are a few key differences…
The first difference is you can only use it on a smartphone. You can't use it with an Internet browser on your computer.
The second difference is Snapchat messages vanish in a few seconds. When Snapchat was developed in 2011, social media users had privacy concerns over who could see their messages and photos.
This has made Snapchat incredibly popular with teens and millennials.
The 70% of 18- to 24-year-olds in the United States who have a smartphone use Snapchat, according to Bloomberg. Snapchat is also growing in popularity with older users. As of June 2016, 41% of 25- to 34-year-olds used Snapchat.
Get Our Best Wealth-Building Ideas: Money Morning's top 5 investment reports to grow your money like never before are right here – and they're absolutely free. Read more…
Snapchat users are also very engaged with the app. They spend an average of 10 minutes per day on it, according to investment company Cantor Fitzgerald.
And this growing and engaged audience has made Snapchat millions in advertising revenue…
How Snapchat Makes Money
Snapchat launched "Sponsored Lenses" in October 2015. It allows Snapchat users to take pictures or videos of themselves with different animated filters.
Companies such as Taco Bell and 20th Century Fox use these filters as a form of indirect advertising. For example, 20th Century Fox purchased lenses that allow users to add characters from "The Peanuts Movie" to their pictures and videos.
Snapchat Lenses can cost up to $750,000 just for one day.
Companies can also buy advertising space on Snapchat. The ads will appear in the context of other snaps. According to eMarketer, video ads could generate $250 million in ad revenue in 2016 for Snapchat.
Snapchat's third revenue source is its sunglasses. Snapchat Spectacles allow users to take video with their sunglasses and post it wirelessly to their Snapchat accounts.
The sunglasses retail for $129.99 but are only available in pop-up vending machines across the country right now.
Because of this growing revenue, Snapchat has a lofty valuation…
Snapchat's Revenue Projections and Valuation
Snapchat has a valuation of $25 billion, but that could climb to $40 billion by the time it goes public.
That's because Snapchat's revenue is expected to skyrocket…
Bloomberg estimates Snapchat will generate $367 million for 2016. That would be an increase of 522% from Snapchat's 2015 revenue totals of $59 million.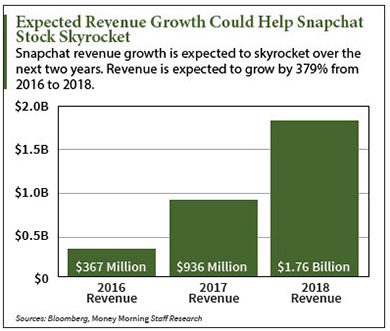 But what investors are really excited about is the revenue projections for 2017 and 2018.
In 2017, Snapchat is projected to generate between $936 million to $1 billion in revenue. By 2018, Snapchat could generate $1.76 billion in revenue.
However, Snapchat stock will seem expensive for value investors. If Snapchat has a valuation of $25 billion at its IPO, that means Snapchat stock could trade for 25 times its projected 2017 revenue totals.
Before buying Snapchat stock solely based on the revenue totals, here's what you need to know…
Should I Buy Snapchat Stock?
IPOs are appealing because of the success of other IPOs that have worked out.
For example, Facebook stock has climbed 216% from its 2012 IPO price of $38 per share. Seeing that makes investors take risks they normally wouldn't, hoping to capture similar gains in a new IPO.
"Millions of 'mom and pop' investors are itching to get a piece of the action believing that they're going to make a fortune when getting burned is far more likely," Fitz-Gerald said.
You see, Wall Street likes to forget the Facebook stock price fell as low as $19.05 per share just three months after Facebook's IPO. Retail investors who purchased Facebook stock for $42.05 when it first started trading lost 54% of their investment if they sold it when it reached $19.05.
Twitter Inc. (NYSE: TWTR) is another good example of a tech stock that plummeted after its IPO. Twitter stock opened at $45.10 on Nov. 7, 2013, but it's now trading at $19.37 per share.
That's a loss of 57%.
And when it comes to IPOs, the biggest gains are never made by the average investor.
Insiders like big banks and wealthy investors always make the most money. In the recent Twilio Inc. (NYSE: TWLO) IPO, insiders were able to buy into the IPO at $15 per share.
Retail investors had to wait until June 23 to buy TWLO stock, when it opened at $23.99 per share.
It's true some retail investors have made a profit of 22% on TWLO stock if they bought it when TWLO first traded on June 23. But those wealthy investors and large instructions have made staggering profits of 95%.
If you understand the risks of an IPO and still believe Snapchat stock is a good investment, Money Morning Director of Tech & Venture Capital Research Michael A. Robinson has a way to play the Snapchat IPO.
"I generally tell retail investors to avoid buying an IPO at the open because the insiders have already made all the money available at the debut," Robinson told me.
"My exception to this rule is to put in a limit order that is fairly tight from the offering price. Otherwise the risk is you buy at the top and then go upside down. That's a big risk to carry with a new issue that hasn't hit the lock-up date," Robinson said.
Because this could be one of the biggest IPOs in 2017, we know investors still have a lot of questions. That's why we made this guide for our readers that covers everything you need to know about the Snapchat IPO.
Follow Money Morning on Facebook and Twitter.