By now we've all seen the "Trump Tweet Effect" in full effect these past weeks, as the president-elect's unfiltered social media messages hit some of Wall Street's favorite stocks, like Boeing, for better… or worse.
Lockheed Martin, for instance, one of our best defense plays, lost $4 billion in value in the aftermath of Trump's tweeted remarks about the F-35 Lightning program.
Frankly, the losses on Lockheed and Boeing, and for that matter the gains on SoftBank, say more about Wall Street traders than about Donald Trump – or the stocks he's talking about.
But the truth is, it's likely we can look forward to this kind of "volatility" from here on out.
Unless… you go with the recommendation I'm going to show you now. It's offering explosive growth in a blue-chip package – 37% year to date, and I can't imagine any mere 140 characters are going to ding it…
Everything Is Going Right for This Company
The fact that this company has packed on double-digit gains – 20% since October alone – this year would be nice enough, but this mammoth is worth $153 billion.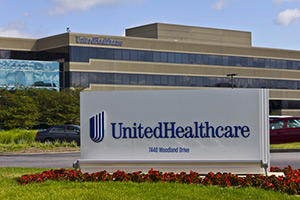 It's one of the healthcare sector's biggest players, and it's done well enough in the Obama Era, but it's caught up in a megatrend that will only increase with Republicans in control of Washington.
I'm talking about UnitedHealth Group Inc. (NYSE: UNH), the largest healthcare provider in the United States.
There are so many massive profit catalysts lining up under this stock it's hard to cover them all, so I'll look at the three most powerful…
Catalyst No. 1: (Super) Size Matters
In the health insurance game, which also includes many complementary businesses like Prescription Benefit Management (PBM) and automated record systems, the bigger you are, the better you can manage costs.
You may recall in 2015 there was a great deal of talk about the big healthcare insurers merging. UnitedHealth was looking to acquire Aetna Inc. (NYSE: AET), while Cigna Corp. (NYSE: CI) was trying to merge with Anthem Inc. (Nasdaq: ANTM).
But then Aetna decided that instead of being acquired, it would do some acquiring on its own; the insurer announced it was planning on merging with Humana Inc. (NYSE: HUM), all but scuttling UnitedHealth's merger plans.
But now, the two mergers between Humana and Aetna, and Cigna and Anthem, are tied up as the U.S. Department of Justice looks into whether the mergers are anticompetitive.
Bottom line: UnitedHealth actually dodged a bullet by not getting involved in the smaller companies' M&A soiree. It doesn't have the legal fees and time suck involved in a major action like a government investigation, and it's still growing at a rapid clip.
Catalyst No. 2: The ACA Is on Life Support
Join the conversation. Click here to jump to comments…
About the Author
Michael A. Robinson is one of the top financial analysts working today. His book "Overdrawn: The Bailout of American Savings" was a prescient look at the anatomy of the nation's S&L crisis, long before the word "bailout" became part of our daily lexicon. He's a Pulitzer Prize-nominated writer and reporter, lauded by the Columbia Journalism Review for his aggressive style. His 30-year track record as a leading tech analyst has garnered him rave reviews, too. Today he is the editor of the monthly tech investing newsletter Nova-X Report as well as Radical Technology Profits, where he covers truly radical technologies – ones that have the power to sweep across the globe and change the very fabric of our lives – and profit opportunities they give rise to. He also explores "what's next" in the tech investing world at Strategic Tech Investor.