The Exxon stock price jumped 2.4% the day Exxon Mobil CEO Rex Tillerson was announced as the nominee for secretary of state. But there's more investors need to know before they get excited about the Exxon stock price in 2017…
Tillerson will have to formally leave Exxon Mobil Corp. (NYSE: XOM) to win confirmation and be sworn in as a cabinet member. But his experience with Exxon will guide his duties as secretary of state, and that could work to Exxon's benefit.
Before we explain how Exxon Mobil stock will perform in 2017, here's how the markets have reacted to Tillerson's nomination…
Exxon Stock Price Changes Since Tillerson's Nomination
Exxon stock has benefited from the post-election rally, seeing its share price jump over 6% since Nov. 8, though the Dow is up 9%.
Shares of Exxon Mobil stock appeared to shift favorably on the news Tillerson was being considered by the Trump team.
The chart below shows how the stock has performed since Tillerson's nomination was first mentioned in the media. We've also highlighted key dates in the nomination process.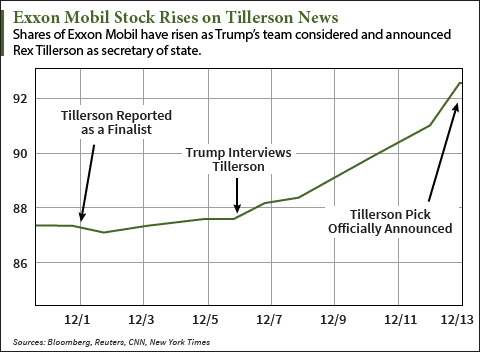 As you can see, the biggest gains for the Exxon stock price occurred just before Tillerson's official appointment.
Investors are hopeful having Exxon's longstanding CEO as secretary of state will be good for the Exxon Mobil stock price. After all, Trump praised Tillerson as a "world-class player and deal maker," and chose him because "he does massive deals for the company."
Don't Miss: My (Bold) 2017 Oil Price Forecast – and Today's Most Profitable Energy Play
Trump chose Tillerson for his knowledge of the "players" in the oil market and his ability to make deals. It's possible the deals he negotiates as America's top diplomat will be favorable to Exxon, too.
But Tillerson's relationship with Exxon Mobil also has a downside for the Exxon stock price in 2017.
XOM stock is down 3% from Tuesday's (Dec. 13) high and is currently trading at $90.64. XOM stock dropped following reports about conflicts of interest between Tillerson and Exxon.
Tillerson owns roughly $245 million worth of Exxon Mobil stock. Normally, Tillerson could sell his shares and reap a huge, tax-deferred profit as he enters government service.
But the situation is more complicated…
Fortune reports over $100 million of Tillerson's stock has not vested yet, meaning he can't sell the shares before taking the job as secretary of state.
That means he will either have to abandon his shares, and money, or vow to sell them when they fully vest. That could take until 2024. And that would mean Tillerson's decisions as secretary state could potentially impact the value of his Exxon stock holdings.
This sort of conflict of interest might make investors nervous.
So will Tillerson will be a blessing or curse for XOM stock? Here's our Exxon stock price outlook for 2017…
Will Exxon Stock Go Up in 2017?