Sales of legal marijuana in the United States are expected to hit $7.9 billion this year, up from $5.7 billion last year – with just one obstacle preventing sales from growing even faster.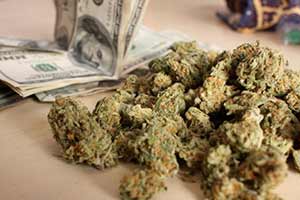 Here's the problem. Dispensaries in states that have legalized marijuana have run into a roadblock when it comes to methods of customer payments. The big credit card companies and most banks refuse to do business with marijuana dispensaries, despite legalization.
That means no credit cards or checks can be used to buy, forcing a cash-only policy among most legal marijuana stores.
The good news is that a solution already exists: the digital currency Bitcoin…
Why Legal Marijuana Sales Make Banks Nervous
Banks are skittish about marijuana dispensaries because while an increasing number of states have legalized marijuana, the substance is illegal at the federal level.
As a highly regulated industry, banks want nothing to do with any business that deals in a substance that violates federal law. Technically, dealing in cannabis remains a federal crime even in states that have legalized it because federal law trumps state law.
And that doesn't figure to change any time soon.
In August, the Drug Enforcement Administration (DEA) reiterated is intent to keep marijuana classified as a "Schedule I" substance – illegal for any purpose, including medicinal needs. Heroin is also a Schedule I substance.
Must Read: Former Google Exec Quits Dream Job to Launch Marijuana Empire
As long as the DEA continues to dig in its heels, banks will continue to shun the nation's growing number of marijuana dispensaries. Recreational marijuana is now legal in eight states and the District of Columbia. Medical marijuana is legal in 28 states as well as the District. At least six more could legalize marijuana in 2017.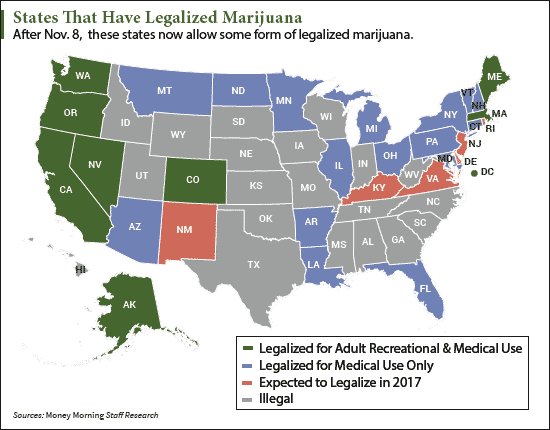 Remaining cash-only businesses might seem to be an acceptable solution for the marijuana dispensaries, but it carries serious risks.
For one thing, cash makes managing the business's finances much more difficult. Taxes must be paid in cash. Large bank deposits of cash must be made in person.
Worse still, all that cash presents an irresistible target to thieves. And armed robberies of marijuana stores are on the rise.
In a June 19 robbery of the Green Pot dispensary in the Denver suburb of Aurora, a security guard was shot in the head and killed. Four days later, a guard at a medical marijuana dispensary in San Bernardino was also shot in the head; he survived.
Medical marijuana dispensaries need a better payments solution, and Bitcoin fits the bill…
Why Bitcoin Makes Sense for Marijuana Stores