There's a tech "play" out there that gives us access to just about everything: solar panels, data storage devices, tablets, smartphones, cars and trucks, and even high-definition TV sets.
But that's just the beginning.
It also puts us in antibiotics… water purification systems… and even NASA spacecraft.
And I bet that most of you have a piece of this "Universal Tech Play" on you as we speak.
I'm talking about silver.
Most investors think of it as a precious metal – a way to store value.
But you're not "most investors," and you now know that silver – this Miracle Material – has a special set of properties you won't find in other commodities. It's an excellent electrical and thermal conductor; it provides a durable and smooth coating for many tech components that can't have imperfections; and it has antimicrobial properties that help medical devices stay germ-free.
Profit Opportunity: This is your ticket to bigger and better returns… and it won't cost you a penny. What are you waiting for? Read more… 
Washing machines, refrigerators, air conditioners, air purifiers, and vacuum cleaners all rely on silver nanoparticles to sterilize up to 650 types of bacteria.
And right now, another hot growth area is just starting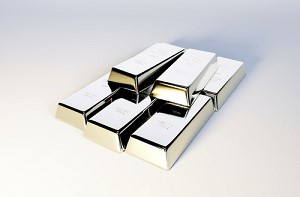 to develop for silver – nanotechnology.
Engineers have begun tinkering with this metal, looking for ways to apply wafer-thin layers of silver to a range of industrial and medical products.
While silver prices have been weighed down by strong economic figures lately, this shouldn't deter you long term. In fact, the best time to find great bargains in silver is before another price surge.
Here's where to look…
The Silver Bull Run
Like gold, its more glamorous cousin, silver has for thousands of years been a store of value and a hedge against decline. That makes it a must-have in any market.
But most investors don't realize that silver is also an industrial/strategic metal. It's used in just about every electronic device in the world, and there are just no good substitutes. It has to be silver.
Consider this: The world produces about 22,000 metric tons of this metal each year. The U.S. Geological Survey says that 35% of that, around 7,700 metric tons, is used in electronics, and another 25% is used for investment-grade coins and bullion.
Here's why that 35% figure is likely to surge forward. Those 7,700 metric tons aren't going to be anywhere near enough for all the high-tech products hitting the market and in the pipeline.
Every solar panel, storage device, tablet, smartphone, connected car, and HD TV that exists or ever will exist needs silver. Washing machines, refrigerators, air conditioners, air purifiers, and vacuum cleaners all rely on silver nanoparticles to sterilize up to 650 types of bacteria.
Even though silver prices have fallen sharply from the peak of the commodity boom, low-cost silver miners can still make ample profits from every ounce they produce precisely because demand is growing and supply is tightening.
For instance, according to the consultants at Prismark Partners, the photovoltaic panel industry's demand for silver has grown 50% since 2012. And touchscreen production is running at a compound annual growth rate of 20% through next year.
So physical silver is without a doubt a very smart investment right now. Prices are up more than 20% in 2016 – and we've seen peak gains of 40% during the year.
But for many investors, owning physical silver is not realistic. After all, it sells for $17.10 an ounce – or $273.60 per pound.
That's why I've put together a list of the top three universal tech play ETFs. These silver ETFs are among the most highly traded on the market.
ETFs make it easy to invest in either silver itself or in silver mining companies. This provides both instant diversification and easy management, as you can buy and sell shares of your ETFs just as you would a normal stock.
Join the conversation. Click here to jump to comments…
About the Author
Michael A. Robinson is one of the top financial analysts working today. His book "Overdrawn: The Bailout of American Savings" was a prescient look at the anatomy of the nation's S&L crisis, long before the word "bailout" became part of our daily lexicon. He's a Pulitzer Prize-nominated writer and reporter, lauded by the Columbia Journalism Review for his aggressive style. His 30-year track record as a leading tech analyst has garnered him rave reviews, too. Today he is the editor of the monthly tech investing newsletter Nova-X Report as well as Radical Technology Profits, where he covers truly radical technologies – ones that have the power to sweep across the globe and change the very fabric of our lives – and profit opportunities they give rise to. He also explores "what's next" in the tech investing world at Strategic Tech Investor.