The mysterious hexagonal facilities Beijing installed on man-made islands in the South China Sea appear to be anti-aircraft and anti-missile systems.
Images of the structures were released in a report Wednesday by the Asia Maritime Transparency Initiative (AMTI) - the organization responsible for identifying these buildings as weapons systems.
The agency believes the facilities are a likely power play by China to intimidate the country's neighbors. The move also further unsettles ties with the United States.
It has been a little over five months since the Hague-based Permanent Court of Arbitration invalidated Beijing's territorial claims in the disputed waters. But Beijing has maintained the ruling has no bearing and continues to build in the region.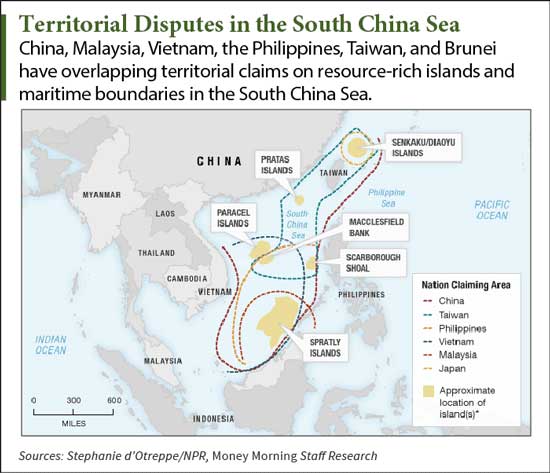 This move should also draw the ire of President-elect Donald Trump...
Trump has been increasingly willing to confront Beijing on myriad issues, including currency manipulation and the country's assertive behavior in the contested Pacific waters.
Don't Miss: Will the U.S. Go to War with China Over the South China Sea?
But Beijing  says it isn't breaking any laws.
In fact, Chinese Foreign Ministry Spokesman Geng Shuang said yesterday that he was personally unaware of AMTI's report. Geng also reminded reporters that the South China Sea islands are undeniably part of China's "inherent territory."
Meanwhile, China's defense ministry gave its own rationale for the hexagonal facilities on the man-made islands...
South China Sea Structures Are Just "Slingshots," According to Beijing
In a post on its Weibo account, the Red Dragon Defense Ministry claimed that the construction was primarily for civilian use, while the military installations were necessary for "self-defense."
"If someone were flexing his muscles outside your door, wouldn't you get a slingshot ready?" the ministry wrote.
The agency also claimed the military installations are proper and lawful.
Despite their purportedly authorized presence, AMTI Director Greg Poling does not believe the structures are solely for the sake of China's self-defense...
"This is militarization," Poling told Reuters on Wednesday. "The Chinese can argue that it's only for defensive purposes, but if you are building giant anti-aircraft gun and CIWS emplacements, it means that you are prepping for a future conflict."
Bonnie Glaser, senior adviser for Asia and the director of the China Power Project at CSIS, agreed with Poling's statement on Wednesday. She added, "Although these systems are intended for self-defense, it is hard to argue that they are consistent with [Chinese President] Xi Jinping's pledge to not militarize the islands."
May Day, May Day: It's been 20 years since TWA Flight 800 went down off the coast of Long Island. But there are many skeptics still out there who aren't convinced it wasn't the U.S. government's fault. Here's the evidence they've spent two decades gathering...
Follow Money Morning on Twitter @moneymorning and on Facebook.
Related Articles: