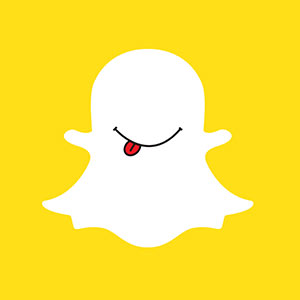 The latest Snapchat IPO news this week is a new partnership that could send Snapchat's revenue skyrocketing. This could make Snapchat the most-hyped IPO of 2017.
On Dec. 7, Turner Broadcasting System announced it would create more video content for Snapchat. According to Fortune, TBS and Adult Swim will create original series exclusively for the social media app.
Turner also renewed an agreement to create "Live Stories" on Snapchat for its sports programming. Snapchat users will be able to submit collections of videos and photos of Turner's sports programming, like the NCAA Division I Men's Basketball Championship and the Professional Golfers' Association (PGA) Championship.
Through Turner's original programming and Snapchat's Discover channel, Turner and Snapchat will also collaborate on generating ad sales.
For Turner, this partnership provides the broadcasting giant a way to reach a younger audience. That's important, as teen and millennial content-viewing preferences are changing.
According to The New York Times, millennial households without children are the least likely to have cable as of October 2015.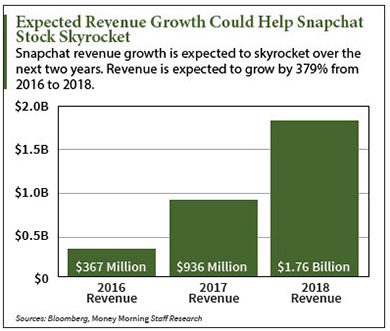 For Snapchat, this partnership adds more advertising revenue to its already impressive projections…
Before this new agreement, Snapchat was projected to generate up to $1 billion in revenue for 2017.
From Snapchat's 2016 projected revenue totals of $367 million, that would be an impressive increase of 172.47%.
Trending Story: Your Facebook Stock Split Guide
And revenue is expected to climb even further in 2018. In roughly two years, Snapchat is projected to generate $1.76 billion in revenue.
The Snapchat IPO is expected to debut as early as March 2017, and this new revenue catalyst will create a lot of hype.
But investors seeking long-term gains can't buy a stock just because of Wall Street hype.
So when Snapchat stock hits the market, here's how you want to play the Snapchat IPO…
After the Latest Snapchat IPO News, Should I Buy Snapchat Stock?
There are several reasons why investing in IPOs is risky.
The first reason is you're buying into the idea that a company's revenue will grow and its stock price will climb. Companies going public, especially tech companies, may not yet be profitable before an IPO offering.
For example, Twitter Inc. (NYSE: TWTR) went public in 2013 and still isn't profitable.
Snapchat is not yet profitable, and there's no guarantee it will ever become profitable.
The second reason is the biggest gains from IPOs are always made by large institutions and wealthy investors. Before the Twilio Inc. (NYSE: TWLO) IPO, wealthy investors were able to buy shares for $15 per share.
When TWLO stock opened to retail investors on June 23 for $23.99 per share, these wealthy investors had made a profit of 59% in the first few minutes of trading.
The third reason is the limited financial data available before buying an IPO. You can't analyze current P/E ratios, 52-week price ranges, and other important data before making a decision.
If you understand the risks of an IPO and still believe Snapchat stock is a good investment, Money Morning Director of Tech & Venture Capital Research Michael A. Robinson has a way to play the Snapchat IPO.
"I generally tell retail investors to avoid buying an IPO at the open because the insiders have already made all the money available at the debut," Robinson told me.
"My exception to this rule is to put in a limit order that is fairly tight from the offering price. Otherwise the risk is you buy at the top and then go upside down. That's a big risk to carry with a new issue that hasn't hit the lock-up date," Robinson said.
Because this could be one of the biggest IPOs in 2017, we know investors still have a lot of questions. That's why we made this guide for our readers that covers everything you need to know about the Snapchat IPO.
Follow Money Morning on Facebook and Twitter.