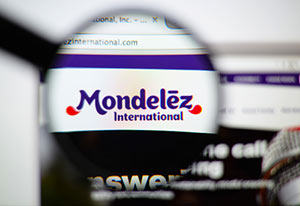 Mondelez International stock is up this week on chatter a takeover offer from Kraft-Heinz Co. (NYSE: KHC) could be coming.
Shares of Mondelez International Inc. (Nasdaq: MDLZ) surged 6% after hours Wednesday as rumors spread that Pittsburgh-based Kraft-Heinz might be interested in purchasing Chicago-headquartered Mondelez. German business magazine Bilanz first reported about the possible takeover.
Mondelez shares rose 4.9% Thursday morning as the rumor spread. But after CNBC shot down the likelihood of a deal between the two snack food goliaths, Mondelez stock pared those gains. MDLZ ended Thursday up 1.88% at $44.71. In early trading today (Friday), shares were off 0.85% at $44.33.
While a Mondelez/Kraft-Heinz deal right now may be off the table, a good case could be made for why the two should unite, or reunite.
Trending: Get the Best Investing Research Today to Grow Your Money
Mondelez owns well-known brands including Cadbury, Nabisco, Ritz, and Toblerone. Meanwhile, Kraft-Heinz's portfolio boasts classic brands such as its namesake macaroni and cheese, Velveeta, Oscar Mayer, and Kool-Aid.
The two would nicely complement each other. In fact, the two were once one company…
Would a Merger Benefit Mondelez International Stock?