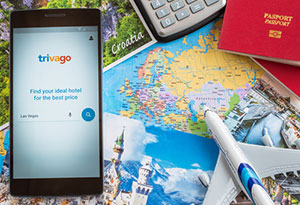 Trivago stock is up nearly 10% to $12.07 following its IPO today (Friday). When the stock finally opened shortly before 11 a.m., shares were up a muted $0.20 at $11.20.
Trivago NV (Nasdaq: TRVG) is a German hotel-search company. It priced its initial public offering of 26.1 million American depositary shares (ADSs) at $11 apiece. That was below its projected number of shares and price range. The company had expected to offer 28.5 ADSs at $13 to $15 each.
Trivago sold about 18.1 million ADSs. Shareholders sold about 8 million, down from a previous estimate of 10.4 million. After the IPO, Trivago will continue to be controlled by its biggest shareholder, Expedia Inc. (Nasdaq: EXPE). In 2012, Expedia paid 477 million euros ($531 million) for a 62% stake in Trivago.
Trivago will use its portion of the IPO proceeds, estimated at $199.1 million, to increase its financial flexibility. It will also use funds for expansion and improvements.
Don't Miss: Get the Best Investing Research Today to Grow Your Money
The company's popular online and mobile platform allows consumers to search through numerous hotel bookings at the same time to compare prices. It generates revenue from online travel agencies, hotel chains, and independent hotels that advertise on its site.
So is this an IPO stock that investors should jump into, or should investors sit on the sidelines today?
Is Trivago Stock a Buy After Its Debut?
Money Morning does not recommend buying shares in a new issue on the day of its IPO.
Shares of an IPO are typically volatile, especially when it is a "hot" issue, in the first several days after a debut. Since companies only go public once, an IPO is a once-in-a-lifetime opportunity for investors. Still, a lot of the immediate gains are fueled only by hype and not by the company's financials.
Meanwhile, losses could simply reflect poor pricing and flipping. Flipping is the term for selling an IPO in the first few days of a listing for a quick profit if shares climb dramatically in the debut. Flipping is often done by institutional investors who are allotted large chunks of stock.
Waiting for the excitement and volatility to die down is a smaller investor's best strategy when it comes to IPO investing. For example, in Q1, more than half of this year's new stock market entrants were trading well below their IPO price. Some IPO stocks had fallen as much as 31%.
For investors who do plan to buy stock on its IPO, Michael A. Robinson, Money Morning's Director of Tech & Venture Capital Research, advises investors place a limit order that closely tracks the IPO price. That will save investors from the risk of paying an inflated price. And don't chase an IPO price up or down.
Editor's Note: Timing is everything when it comes to making money in markets - and this new, free service we created puts timing on your side...
Follow us on Twitter @moneymorning and like us on Facebook.
Related Articles: