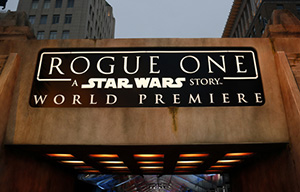 Walt Disney Co. (DIS) stock climbed higher today (Monday) following a blockbuster box-office weekend for its new "Star Wars" spin-off. But is this just a short-term burst for Disney stock, or a sign of more to come?
Disney stock was higher by 2.08% at $106.74 in mid-morning trading on brisk volume.
Before we get into our outlook on Disney stock, here's a look at how "Rouge One" performed over its weekend debut...
Walt Disney Co. (DIS) Stock Jumps on "Rogue One" Opening
As widely expected, "Rogue One" handily won the weekend box office. The film took in $155 million domestically in its opening in 4,157 theaters. The global take was a very healthy $290.5 million. That means "Rouge One" now boasts the second-highest opening in December, behind only Disney's "The Force Awakens."
The opening bodes well for the future of "Star Wars" spin-offs, as well as for Disney stock in 2017 and beyond.
Apart from "Rogue One," the only other upcoming "Star Wars" movies with actual release dates are Episode VIII and Episode IX. Episode VIII is expected in 2017, while Episode IX is expected in 2019.
Urgent: Get the Best Investing Research Today to Grow Your Money
Episode VIII has a release date of May 26, 2017. That is 40 years and one day after the release of the original movie that started "Star Wars'" cult-like following back in 1977.
RBC Capital Market's Barton Crockett told CNBC on Friday that "Rouge One" is crucial for Disney. "It's not just 'does this movie do well,' but it's the argument that 'Star Wars' can be an annuity business rather than just a flash in the pan [or a] couple of successful movies."
Blockbuster movies are already critical for Disney, and there's a major reason why we remain bullish on Walt Disney Co. (DIS) stock...
Why We Remain Bullish on Disney Stock in 2017