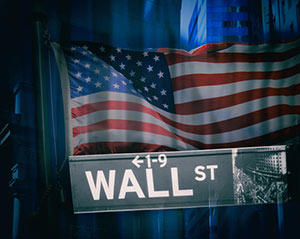 The Dow Jones Industrial Average today climbed higher thanks to gains in consumer discretionary stocks and a positive uptick in the Goldman Sachs Group Inc. (NYSE: GS) stock price.
The S&P 500 Volatility Index (VIX) fell another 1% on the day as low volumes and increased economic optimism keep uncertainty low.
Let's look at the numbers from Tuesday for the Dow, S&P 500, and Nasdaq:
Dow Jones: 19,974.62; +91.56; +0.46%
S&P 500: 2,270.76; +8.23; +0.36%
Nasdaq: 5,483.94; +26.50; +0.49%
Now, here's a look at today's most important market events and stocks, plus a preview of Wednesday's economic calendar.
DJIA Today: Dow Approaches 20,000 as Banking Stocks Continue to Surge
The Dow Jones rallied again Tuesday and closed in on 20,000 thanks to a strong surge in consumer discretionary stocks. Banking stocks continued to push higher thanks to increased expectations of future interest rate hikes and potential deregulation by President-elect Donald Trump. Shares of Wells Fargo & Co. (NYSE: WFC), Bank of America Corp. (NYSE: BAC), and Citigroup Inc. (NYSE: C) all climbed today.
Once again, terror struck Europe. In Berlin, Germany, 12 people died after a truck drove through a holiday market. This attack came after a shooting in Zurich, Switzerland, and the assassination of Russia's ambassador in the Turkish capital, Ankara. The attack hurt the euro and fueled an uptick in the U.S. dollar. However, it didn't have much of an impact on the broader global economy.
Don't Miss: Double Your Money as This Company Takes the Fight to America's Enemies
A rising U.S. dollar has put additional pressure on gold prices Tuesday. An ounce of the yellow metal fell by nearly 1%. However, Money Morning Resource Specialist Peter Krauth has an ambitious 2017 gold price prediction.
Crude oil prices were ticking higher Tuesday despite forecasts for a large drawdown in U.S. crude inventories. The WTI crude oil price today added 0.2%, while Brent crude added 0.7%
Money Morning Global Energy Strategist Dr. Kent Moors has just released his latest 2017 price forecast during an interview with CNBC. Dr. Moors explains how the recent OPEC production deal will affect oil prices, and when U.S. producers will start seeing significant improvement. Click here to watch the interview.
But the big news today is what is happening with the retirement age in the United States. Right now, the age to retire in the United States is 65, but that can change. Unless people are willing to work longer, Social Security will start to be depleted. Here's everything you need to know…
Top Stock Market News Today, Dec. 20, 2016
Wednesday's U.S. Economic Calendar (all times EST)
MBA Mortgage Applications at 7 a.m.
Existing Home Sales at 10 a.m.
EIA Petroleum Status Report at 10:30 a.m.
An $80 Billion Cover-Up? Feds use obscure loophole to threaten retirees… Under the watchful eye of Congress, the government will soon be implementing a controversial plan that threatens the retirement of millions of Americans. And they're using an obscure loophole buried in Title 29 of the U.S. Labor Code to do it. If you have a 401(k), IRA, or any type of retirement account, this could cause you to miss out on $68,870 or more. Full Story
Follow Money Morning on Facebook and Twitter