It's that time of year when you can't help but get smacked in the face with hundreds of holiday discounts on things that you honestly don't "really need" – like toys, gizmos, and gadgets.
At the same time, prices keep rising on the things you actually do need – like toothpaste, tissue paper, and shampoo.
And that's exactly how these stores get you… They tempt you with large percentages off the most expensive items you want. Then they jack up the prices of the items you need on a daily basis.
But this isn't a coincidence. It's a strategic way for the CEOs to fatten their wallets with your money while you're left with the latest virtual reality headset – and no ham on the Christmas table.
So here's how you can take your cash back…
Yes, Your "Boring" Household Items Are a Gold Mine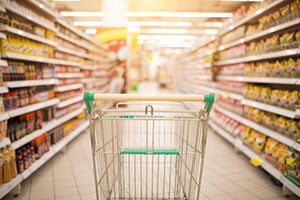 Everyday necessities, like the ones listed above, are classified as "consumer staples" and are sold by companies deemed "consumer staple stocks." They've even got their own exchange-traded fund (ETF): the Consumer Staples Select SPDR ETF (NYSE Arca: XLP). The top three stock in XLP by greatest weighting are Proctor & Gamble Co. (NYSE: PG), The Coca-Cola Co. (NYSE: KO), and Phillip Morris International Inc. (NYSE: PM).
Up Next: Get the Best Investing Research Today to Grow Your Money
Unlike their consumer discretionary stock cousins, which have catapulted higher since the election, consumer staple stocks and XLP have declined. Now, I don't believe this is because there's something fundamentally wrong with them, such as poor sales or company mismanagement… my sense is that these stocks simply aren't known for their volatility and radical momentum to the upside. They're staples; companies that specialize in selling boring, but necessary, products we need for our daily maintenance – from personal hygiene to home cleaning. On top of that, President-elect Trump's post-inaugural plans will help basic material stocks, but not necessarily these types of stocks. And his potential changes to things like healthcare don't seem like they'll benefit a Hershey Co. (NYSE: HSY) or a Kraft Heinz Co. (Nasdaq: KHC).
What you've got left are these companies with less than attractive buys during the holiday season (that you're likely NOT spending your money on) rising prices after because they know you need them. And they know they can get away with it.
So that's where you flip the script. Instead of giving all of your money to these CEOs, take it back – by trading the whole sector.
I mentioned XLP above… Take a look at its price movement this year:
Join the conversation. Click here to jump to comments…
About the Author
Tom Gentile, options trading specialist for Money Map Press, is widely known as America's No. 1 Pattern Trader thanks to his nearly 30 years of experience spotting lucrative patterns in options trading. Tom has taught over 300,000 traders his option trading secrets in a variety of settings, including seminars and workshops. He's also a bestselling author of eight books and training courses.