My colleagues have been busy making lists of "Donald Trump Stocks."
I've done some of that myself.
But maybe we should rethink that a little.
Trump has said he plans to act more like a chairman of the board, while Vice President-elect Mike Pence and the cabinet handle the nitty-gritty of government.
So maybe we should be talking about "Elaine Chao Stocks"...
After all, Trump's pick for secretary of transportation will head up much of the president-elect's $1 trillion infrastructure improvement plan.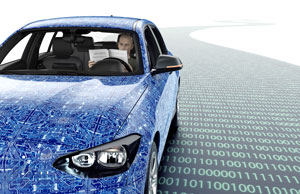 But more importantly to our interests here, she'll be in charge of regulating self-driving vehicle technology.
If Chao's history as deputy secretary of transportation under George H.W. Bush and secretary of labor under George W. Bush repeats itself, that's good news, because she's known for a light regulatory hand.
To us, that means public companies in the self-driving space are likely to see a big boost in share price over the next four years.
Especially the one we're looking at today.
You can already find its "pre"-autonomous driving technology in many of the most prestigious nameplates.
Its technology is the force behind two of the most "public" driverless car tests over the past couple of years.
And its shares are primed to soar as much as 40% in the next year alone.
Let's take a closer look at this "Elaine Chao Stock"...
Changing "How We (Don't) Work"
On the other hand, driverless vehicle technology goes against one of Trump's big promises - to create millions of more jobs.
Like automation has already done in manufacturing and elsewhere, autonomous vehicles will eliminate millions of U.S. jobs. Nearly 5 million Americans make their living driving taxis and ride-sharing vehicles (e.g., Uber), buses, delivery vans, and long-haul trucks and e-hailing vehicles.
Get Our Best Wealth-Building Ideas: Money Morning's top 5 investment reports to grow your money like never before are right here - and they're absolutely free. Read more...
That's almost 3% of the workforce, and they mostly belong to the same "cohort" as all those factory and fossil-fuel workers Trump is seeking to reemploy - men and women without college degrees.
In other words, self-driving technology is changing "How We Work" in the Singularity Era - by being one of the main reasons many may not be working in this brand-new era.
That presents a big problem politically and economically.
However, it's hard to believe proud capitalists like Trump and Chao would stand in the way of innovations that will increase the profits of tech shareholders like you. In fact, I fully expect the Chao team at the U.S. Department of Transportation to make the release of self-driving vehicles easier, if not a priority.
Now, I'm as concerned about the loss of those jobs as much as you are - it keeps me up at night, in fact. And, of course, I have opinions about what politicians and other leaders might or might not do to either stem the loss of these jobs - or create new ones.
However, my job here isn't to share my opinions.
It's simply to work with you to find the best tech profit opportunities out there. Today I'm doing so by following Rule No. 3 of my Tech Wealth Secrets: Ride the Unstoppable Trends. Driverless cars are certainly one of those.
I'm talking about the sort of tech profit opportunity with which you can turn $17,000 - the median savings of families close to retirement - into the sort of "nest egg" most people can only dream of.
And driverless technology and the company behind much of it - the one I'm sharing with you today - are just those sorts of opportunities.
On the Road
If you still find the idea of self-driving cars hard to believe, consider this...
Uber began testing driverless cars in Pittsburghearlier this year, and the Obama administration has endorsed the push to develop these vehicles.
Alphabet Inc.(Nasdaq: GOOGL) has fielded a fleet of autonomous cars, under its Chauffeur division, that have logged a combined 2 million miles in the last four years. (Although the execs there are in the process of refocusing that division - with an announcement coming as soon as today.)
Ford Motor Co. (NYSE: F)and BMW AG are working to produce driverless cars by 2021.
General Motors Co. (NYSE:GM) has invested $500 million in ride-sharing startup Lyft, and the two are working on autonomous vehicles together.
And in April 2015, an Audi SQ5drove 3,400 miles across the country almost entirely "hands free."
On that journey from San Francisco to New York, the car had to guide itself through big-city rush hours, road construction, confusing street signs, and diverse weather.
A human driver had to step in just twice on the trip. A few quick after-trip software fixes have been made, so the next cross-country trek could be truly 100% hands-free.
In other words, the car of tomorrow is here today, and we are at the dawn of a new technology that will shake up the $9 trillion global motor vehicle market and change the way the 80 million cars sold each year operate.
IHS Automotive forecasts annual sales of vehicles with self-driving features and true autonomous vehicles hitting 21 million units within 20 years.
This extremely safe technology should make a huge dent in auto accidents, which kill 32,000 people every year just in the United States.
And Boston Consulting Group predicts that autonomous cars will create a market for the technology that goes from about $0 today... to $42 billion by 2025... to $77 billion by 2035.
Going Behind the Scenes
[mmpazkzone name="in-story" network="9794" site="307044" id="137008" type="4"]
Now, Audi AG got a lot of media buzz for that cross-country trip. But really, beyond supplying the car itself, it played a pretty small role.
After all, to make these cars, you need a bevy of tech platforms, including GPS, chips, sensors, radar, cameras, firmware, and software. The machine needs to be able to take all that data coming from inside and outside the vehicle and use it to make smart decisions in real time.
And Detroit and the globe's other carmakers generally aren't equipped to develop that sort of Silicon Valley-level technology. So they look toward the West Coast - or, in this case, the United Kingdom.
All the autonomous technology for that cross-country trip was produced by Delphi Automotive Plc. (NYSE: DLPH), a tech-driven auto-supply firm that's a GM spin-off based in Southeast England.
This auto supplier gives us a broad reach in the fast-moving field of self-driving cars. It now counts GM, Ford, Volkswagen, Hyundai, Volvo, Fiat-Chrysler, and Daimler as clients.
Trending: The Subprime Auto Loan Market Is About to Collapse - Here's How to Profit
Delphi cuts its teeth by selling advanced cruise-control systems. Each year, those systems get even better - and have become the backbone of the advanced driver assistance systems (ADAS) Delphi markets. These systems provide such features as collision and adaptive cruise control as well as blind spot and lane departure warnings.
The company employs 5,000 software engineers - 26% of its R&D staff - dedicated to its ADAS and self-driving projects.
Late last month, Delphi said it's working with its main autonomous tech partner, Israeli chip developer MobilEye NV (NYSE: MBLY), and Intel Corp. (Nasdaq: INTC) to produce chips capable of computing about 20 trillion mathematical operations a second. That chip will allow Delphi and MobilEye - who are testing their co-produced technology in self-driving hot spot Pittsburgh - to sell their self-driving kit to carmakers by 2019.
Here's Delphi's 10-year plan: Use its leadership in the $15 billion market for ADAS and turn it into a kit for semi-driverless fleet vehicles (delivery trucks, cabs, etc.) by 2019 and systems for fully autonomous vehicles - maybe even for consumers - by 2025.
A Buyout Binge
And buying young tech upstarts is a part of Delphi's growth plans. In October 2015, the firm bought Quanergy, which makes laser systems. That same month, it also bought Control-Tec, a builder of auto data analytics tools.
Those deals came right on the heels of a buyout of Ottomatika, which specializes in self-driving software.
Delphi isn't alone here. PricewaterhouseCoopers LLP says all told, the auto sector is on pace to invest some invest $50 billion in buying young tech firms with promising autonomous tech.
This is truly a supply firm - set perfectly in between slow-growing automakers and risky small-cap bleeding-edge firms - set to profit from the growth in autonomous vehicles over the long haul.
Trading around $68, Delphi has a market cap of $18.25 billion. It has a return on equity of 58.3% and a net margin of 7.2% - and it pays a dividend with a 1.6% yield.
Over the past three years, Delphi has grown per-share profits by an average 11%. But after a round of cost-cutting and new sales, earnings should grow by at least 15% this year and next.
At that rate, the share price will soar at least 15% in the next 12 months - and will double in less than five years.
But when Delphi last released its quarterly results, on Nov. 2, the company beat on both earnings and revenue. It reported $1.50 earnings per share for the quarter, beating the estimate by $0.07. And Delphi had revenue of $4.1 billion, compared to expectations of $3.9 billion.
If it keeps overperforming like that - and if Trump and Secretary Chao clear the way at the DOT for self-driving cars as we expect them to - Delphi could stretch for a share price of $100 and gains of more than 40% in the coming year.
Thus, with Delphi we have a stock that could really give a boost to folks who are struggling to build their retirement savings.
Special Report: Cannabis Is The Gold Rush of the 21st Century - 30 Stocks to Invest in Now. Read more...
Follow Money Morning on Facebook and Twitter.
About the Author
Michael A. Robinson is a 36-year Silicon Valley veteran and one of the top tech and biotech financial analysts working today. That's because, as a consultant, senior adviser, and board member for Silicon Valley venture capital firms, Michael enjoys privileged access to pioneering CEOs, scientists, and high-profile players. And he brings this entire world of Silicon Valley "insiders" right to you...
He was one of five people involved in early meetings for the $160 billion "cloud" computing phenomenon.
He was there as Lee Iacocca and Roger Smith, the CEOs of Chrysler and GM, led the robotics revolution that saved the U.S. automotive industry.
As cyber-security was becoming a focus of national security, Michael was with Dave DeWalt, the CEO of McAfee, right before Intel acquired his company for $7.8 billion.
This all means the entire world is constantly seeking Michael's insight.
In addition to being a regular guest and panelist on CNBC and Fox Business, he is also a Pulitzer Prize-nominated writer and reporter. His first book Overdrawn: The Bailout of American Savings warned people about the coming financial collapse - years before the word "bailout" became a household word.
Silicon Valley defense publications vie for his analysis. He's worked for Defense Media Network and Signal Magazine, as well as The New York Times, American Enterprise, and The Wall Street Journal.
And even with decades of experience, Michael believes there has never been a moment in time quite like this.
Right now, medical breakthroughs that once took years to develop are moving at a record speed. And that means we are going to see highly lucrative biotech investment opportunities come in fast and furious.
To help you navigate the historic opportunity in biotech, Michael launched the Bio-Tech Profit Alliance.
His other publications include: Strategic Tech Investor, The Nova-X Report, Bio-Technology Profit Alliance and Nexus-9 Network.