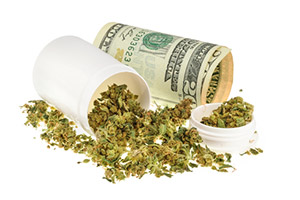 The marijuana industry scored a major victory on Nov. 8, when four states voted for recreational legalization. But new 2017 marijuana laws have some investors worried about investing in the billion-dollar market.
The DEA wants to classify cannabidiol (CBD) as a Schedule I drug by the middle of January 2017. CBD is an extract from marijuana and hemp that is mainly used in the medical field. It was legal to purchase if it was extracted from hemp before the DEA's Dec. 14 announcement.
If the CBD product was extracted from marijuana, you would need a prescription to purchase it.
But even with these new marijuana laws, marijuana investors should remain bullish...
Nearly 60% of the country has some form of marijuana legalization, and states with medical and recreational legalization, like Colorado, are generating billions in sales. According to The Cannabist, marijuana sales for the first 10 months of 2016 topped $1 billion in Colorado.
The industry has grown too large to shut down.
For marijuana stock investors, here's more on the emerging CBD market and how the new marijuana laws could impact the field...
The DEA's Effects on the CBD Market
Because of the Industrial Hemp Farming Act of 2015, hemp was excluded from the Controlled Substance Act. CBD was considered a dietary supplement from the FDA, which made products made from hemp extracts legal.
CBD from hemp was legal because it's low in THC, a psychoactive compound found in marijuana. CBD can also be extracted from marijuana, but its higher levels of THC means a prescription is needed for products with CBD extracted from marijuana.
Before these new marijuana laws, CBD sales were projected to reach $2.21 billion by 2020, according to The Hemp Business Journal.
Now with hemp and marijuana CBD extracts soon to be illegal, these projections could be scaled back. Companies that develop CBD products can now only target customers with medical marijuana prescriptions.
BRILLIANT: Average Americans Are Becoming Marijuana Millionaires
But there are other ways to invest in the marijuana industry and profit without owning companies that only sell marijuana and CBD products.
In fact, there's two companies not directly involved in the cannabis industry that could make millions from marijuana sales...
Two Surprising Marijuana Stocks to Watch in 2017