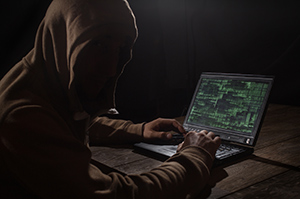 A top U.S. cybersecurity firm issued a dire warning today of a looming event that could disrupt global financial markets and put your money at risk...
The culprit: a 24-hour 2017 Internet blackout.
"In 2017, we're going to see [an Internet blackout] hit big sometime, somewhere," according to LogRhythm Inc. Vice President James Carder in an interview with Business Insider today. "If the Internet goes down, financial markets will tank."
Carder explained that "all of the signs were there in 2016" - referring to the substantial DDoS (distributed denial of service) attacks on large sites like Spotify and Twitter (NYSE: TWTR) earlier this year.
These shutdowns, Carder said, were just small "tests" by practiced hackers that indicate much larger attacks could be on the horizon.
"If you can prove that you can take down massive [social media and musical/digital download] sites and a large chunk of the U.S. Internet for a few hours, a 24-hour outage seems pretty easy to do," he said.
So far, major U.S. financial sites like Capital One and Credit Karma have remained in the clear.
But this comfort won't last long...
For example, credit card theft has long been a major cyberattack issue. As of August 2016, more than 1 billion stolen credentials, such as passwords and credit card numbers, have been dumped online as a result of social breaches by hackers, according to The Hacker News.
And these attacks will likely only escalate as technology evolves and hackers adapt right along with it...
In fact, a survey released in February from fintech (financial technology) vendor Linedata reported that cybercrime is widely expected to be the "greatest business disruptor" over the next five years.
Trending Now: How to Prepare for the Market's Super Crash
And while these hacks involve billions of online users' data, they're still small when compared to the kind of attack Carder expects in 2017...
"It won't just be a technical issue stopping people from uploading their selfies on Instagram," Carder said.
Instead, he predicts the hackers will target major media sites like CNN or FOX News.
"In the name of protecting our free speech, [the hackers] will retaliate by knocking down a major media outlet or two," he warned.
The security expert also expects the hackers to target consumers.
Here's what that attack might just look like...
Simon Howe, director of sales - and Carder's colleague - at LogRhythm, warned about hackers extorting money from unsuspecting smartphone users in the future. For example, "attackers will threaten to send out or delete a user's photos unless a ransom is paid," he said.
Howe continued, "Because so many Apple devices are interconnected, the malware could very quickly spread."
Up Next
An increase in cyberattacks could actually prove to be a very profitable play... if you know where to invest.
Money Morning Director of Tech & Venture Capital Research Michael A. Robinson, a 34-year Silicon Valley tech veteran and cyber-evolution expert, suggests investors take advantage of the "arming" side of the cyber world.
Here's a look at how Robinson intends to make double- and triple-digit gains in the near future from firms devoted to keeping our financial information private.  
Follow Money Morning on Twitter @moneymorning or Facebook.