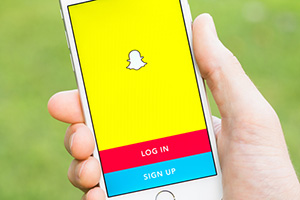 Investing in Snapchat is about to become one of the most popular moves to make on Wall Street this spring.
According to The Wall Street Journal, the Snapchat IPO could happen as early as March 2017.  Although, investors should know IPO dates are never set in stone.
But if the Snapchat IPO happens soon, we want our readers to be prepared.
Here's everything you need to know about Snapchat…
Snapchat's Massive Revenue Projections
Snapchat is a mobile social media app. Users can send messages that disappear after several seconds.
Snapchat also allows its users to be creative. Doodles, captions, and animations can all be added to messages.
Snapchat users are also very engaged…
Cantor Fitzgerald analysts found the average Snapchat user is on the app for 10 minutes per day. In comparison, Instagram users spend only spend 6.4 minutes on Instagram.
And Snapchat's appealing features are allowing it to make millions from ad revenue…
Don't Miss: Double Your Money as This Company Takes the Fight to America's Enemies
Snapchat Inc. made $3.1 million in revenue during 2014. In 2015, its revenue grew to a whopping $59 million, according to Bloomberg.
That's an increase of 1,803% in one year, and that's the kind of growth that can fuel investor interest.
But it doesn't end there…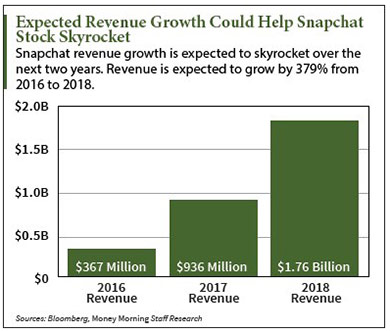 In 2016, revenue is expected to climb to $367 million. By 2017, revenue could be between $936 million to $1 billion. And in 2018, Snapchat's revenue is estimated to soar ever further.
Bloomberg projects revenue could be as high as $1.76 billion.
But a company needs more than just growing revenue totals to make it a good investment.
Before investing in Snapchat stock solely on hype, here's what you need to know…
Should I Invest in Snapchat Stock?
Before investing in Snapchat, Money Morning readers should review its valuation.
If Snapchat is valued at $25 billion and its 2017 projected revenue is $1 billion, Snapchat stock would trade at 25 times its projected earnings. If that valuation climbs to $30 billion or even $40 billion, Snapchat stock could trade for 30 to 40 times its valuation.
Value investors will see this as steep.
However, the promise of a potential big payday from a tech IPO may be too alluring for some investors to miss.
But tech IPOs can be extremely volatile…
For example, the Facebook Inc. (Nasdaq: FB) stock price fell as low as $19.05 per share just three months after its 2012 IPO. Retail investors who purchased Facebook stock for $42.05 when it first started trading lost 54% of their investment if they sold it when it reached $19.05.
But if you want to invest in Snapchat stock, Money Morning Director of Tech & Venture Capital Research Michael A. Robinson advises you place a limit order.
By placing a limit order as close to the IPO offering price as possible, you'll maximize your upside as well as protect yourself from inflated prices.
Because this could be one of the biggest IPOs in 2017, we know investors still have a lot of questions. That's why we made this guide for our readers that covers everything you need to know about the Snapchat IPO.
Follow Money Morning on Facebook and Twitter.