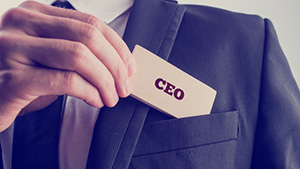 A good CEO can become a business icon - someone who leads a company to dominate an industry and becomes synonymous with success.
Like Steve Jobs. He understood his customers - some would say better than they even understood themselves - mastered market dynamics, and was committed to excellence and brutal rejection of "good enough," and accountable when things went wrong. This made him the quintessential CEO.
Then we have the worst CEOs, like Ken Lay. During his time as CEO of Enron, Lay signed off on a mess of convoluted transactions that formed the basis of a massive accounting fraud that would wipe out investors and bring down the corporation. This landed him at No. 3 on CNBC's "Worst American CEOs of All Time."
We have found five CEOs that make the top five for 2016 - and maybe some on the all-time worst list. Here they are...
Worst CEOs of 2016, No. 5
 Shigehisa Takada - Takata Corp. (TYO: 7312)
Takata Corp. is one of the world's largest suppliers of auto safety equipment. And for the longest time, its airbags set the industry standard.
But starting in 2008 and all the way through Dec. 9, 2016, 14 automakers were affected by severe problems with Takata's airbags. According to the National Highway Traffic and Safety Administration, any Takata airbag inflator made between 2000 and 2007 was improperly welded, causing it to send metal shrapnel into the car's cabin upon airbag deployment.
In total, between 2008 and 2016, the airbags have been linked to 11 U.S. deaths and more than 100 injuries, and a recall of more than 60 million vehicles in the United States alone.
Takada, the CEO, was responsible for the day-to-day operations starting in 2014, the year the problems escalated. During the heat of the recalls, his leadership was allegedly nonexistent. He stayed largely in the background as the company's reputation and cash reserves plummeted, leaving his subordinates to explain the company's response to regulators, governments, and the media.
It wasn't until June 25, 2015, nearly a year after the recalls had been in full swing, that Takada publically addressed the issue and offered an apology. But he stuck to his beliefs that his company's airbags are safe, despite the harm they caused.
Worst CEOs of 2016, No. 4
 Marissa Mayer - Yahoo! Inc. (Nasdaq: YHOO)
On July 16, 2012, Yahoo hired Marissa Mayer to pull the company out of what many saw as a death spiral.
Mayer was faced with a big decision almost immediately after becoming CEO, and that was what to do with Yahoo's massive stake in Alibaba Group Holding Ltd. (NYSE: BABA) and Yahoo Japan. Her original plan to sell off the stock in both Alibaba and Yahoo Japan in order to finance Yahoo's core operations (search, advertising, and news verticals) was shut down by the IRS, as it determined that would be a massive tax liability.
That meant the only other way for Mayer and shareholders to get the value that lies in Alibaba and Yahoo Japan was to sell Yahoo's core assets.
After rounds of bidding, Mayer finally did something for shareholders to cheer about.
In July 2016, Mayer accepted Verizon's offer to acquire Yahoo for $4.8 billion -- that was until Yahoo's most recent news...
On Dec. 14, 2016, Yahoo said it uncovered a 2013 cyberattack that compromised data of more than 1 billion user accounts, the largest known breach on record. The announcement followed Yahoo's disclosure in September 2016 of a separate breach that affected over 500 million accounts.
Since then, there is a Federal Bureau of Investigation probe into the breach and various class-action lawsuits by shareholders. Now Verizon, which agreed to buy Yahoo's core Internet business in July 2016 for $4.8 billion, is trying to persuade Yahoo to change the terms of the acquisition agreement to reflect financial damage from the two separate hacks - even threatening to go to court to get out of the deal if it is not repriced.
Mayer has yet to comment on the breach and the standing of the Verizon deal. This has caused some, like Greg Sterling, a contributing editor to Search Engine Land, to say, "Whatever happens, she'll be seen as the CEO who tried and failed to revive the core business and sold the company."
Worst CEOs of 2016, No. 3