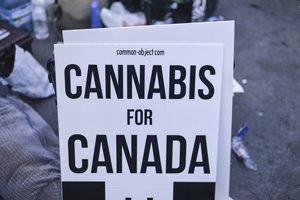 Canadian Prime Minister Justin Trudeau promised he would implement massive changes to Canada marijuana laws. And when he does, it will create a new and booming economy.
If Canada places a "sin tax" of 50% on recreational marijuana sales, the country could make $5 billion annually, according to a CIBC World Markets report.
Currently, only medical marijuana is legal in Canada.
But an overwhelming amount of Canadians support legalizing recreational marijuana…
According to a poll conducted in the summer of 2016, 43% of the 1,000 Canadians surveyed supported legalizing recreational marijuana. Also, 26% of those surveyed somewhat supported legalizing recreational marijuana.
Only 17% were opposed, and 9% were somewhat opposed.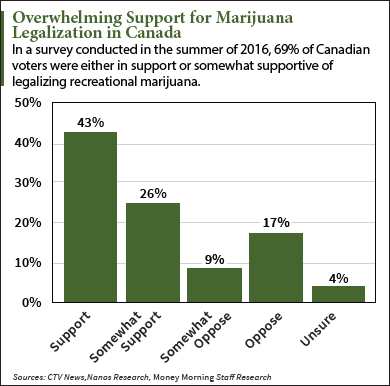 In an effort to start implementing the changes the majority of Canadian citizens wanted, Trudeau launched a marijuana task force in June 2016.
The task force consulted with municipal governments and visited states where recreational marijuana is legal, like Washington and Colorado, according to The Cannabist.
On Dec. 13, the task force submitted its final report to the Canadian government. The report outlined the framework to establish a legal and regulated cannabis industry.
Here are its findings and recommendations…
The Recommendations for New Marijuana Laws in Canada
The task force's vice chair, Dr. Mark Ware, said the difficult issues to address will be age restrictions and regulations for impaired driving, according to The Cannabist.
The Ottawa Public Health Department recommended the minimum age for recreational use should be 25. The department said marijuana could have detrimental effects on the brain development of younger marijuana users.
Special Report: Cannabis Is the Gold Rush of the 21st Century. 30 Stocks to Invest in Now.
The task force acknowledged the concerns. But it recommended Canadian recreational marijuana laws be in-line with legal drinking ages, which are 18 or 19 (depending on the province).
The task force worried that setting the minimum age too high would still help support underground drug markets. The task force also worried if the minimum age was set too high, too many youths would be criminalized if they disobey the new marijuana laws.
When the age debate is settled, the bigger issue will be establishing better marijuana impairment tests for drivers.
Anne McLellan (chair of the task force) said there currently isn't a reliable and proven roadside test for marijuana intoxication, according to CBC News.
Currently, Canadian police officers who have completed training to judge impairment use a lengthy 11-step evaluation checklist. In a Saskatchewan case, it took roughly two hours to test a driver for impairment, according to Global News.
Public Safety Minister Ralph Goodale said on Dec. 14 that Canada will carry out testing on two different kinds of equipment this month.
The tests will take place in seven locations across the country, and the goal for Goodale is to measure the effectiveness and reliability of the equipment and results.
Legislation for new marijuana laws in Canada is expected to be introduced in the spring of 2017.
And if legislation passes, the economic impact will be huge…
How to Play Recreational Legalization in Canada
By 2021, analysts believe Canada will have 3.8 million recreational marijuana users, and the Canadian marijuana market could be a $4.5 billion industry.
And investors who understand the booming marijuana industry is more than just a trend could net massive profits.
With more states in the U.S. legalizing recreational marijuana and the upcoming Canadian legalization initiative, you can start to plot your course to a seven-figure weed windfall with the top pot stocks from every ecosystem – growers, edibles, dispensaries, and more…
As a service to Money Morning readers, we're now making available a 90-page cannabis investing guide called "The Roadmap to Marijuana Millions."
This "bible of weed investing" reveals the world's top marijuana stocks every serious investor should consider right now.
Normally valued at $499, it can be yours absolutely free. To learn how to get your free copy, click here.
This offer is only available to the first 500 people who respond today. So please go here now to reserve your copy.
Follow Money Morning on Facebook and Twitter.