The news surrounding the Fed this month had many investors wondering how higher interest rates can cause a stock market crash.
At the FOMC meeting, the Fed hiked interest rates by 0.25%. While the move was widely expected, markets were still affected. The S&P 500 fell nearly 1% in the hours after the FOMC meeting.
But, with stock markets near record highs, higher interest rates from the Fed could lead to the next stock market crash. Here's how...
How Higher Interest Rates Can Cause a Stock Market Crash
After the 2008 stock market crash, the Fed slashed rates to 0.25%. The Fed kept rates at this historically low rate until last year, when they raised rates to 0.5% during the December FOMC meeting.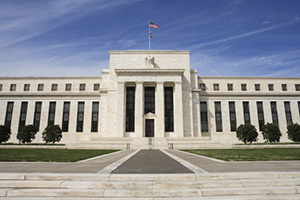 But keeping interest rates below 1% for so long could be causing the stock market to overheat.
Low interest rates forced bond investors into the stock market. When interest rates are so low, bonds don't pay a decent return. Instead, bond investors have had to turn to the stock market. This pushes stocks higher than they would be if interest rates were higher.
And low interest rates have also encouraged corporations to purchase their own stock.
Low interest rates mean borrowing is cheap. But instead of borrowing money to grow their companies, corporations have been using the cheap money to boost their share prices.
Since 2008, corporations have borrowed $1.9 trillion and spent $2 trillion to purchase their own stock. This has helped drive up stock prices, but it's not sustainable when interest rates are raised.
As a result, a stock market bubble could be forming. And historic stock market crashes have been caused by speculative bubbles...
Don't Miss: How to Make a Killing... When Everyone Else Is Panicking
What Causes a Stock Market Crash?
The stock market crash of 1929 was triggered by a speculative bubble.
The stock market surged to record highs during the Roaring Twenties. The stock market was consistently rising, and many investors were sure it would only continue to go up.
This was classic speculation. Money that poured into stocks drove up prices, but investors kept buying up stocks because prices were rising.
Average investors borrowed nearly $125 million in today's dollars to put in the stock market. As long as stock prices kept rising, everyone was making money. People thought they were foolish to stay away.
But, when the market dropped, investors panicked.
They couldn't pay their loans back and began selling stocks, driving prices down even more. As prices fell, more people panicked and tried to sell. This vicious cycle led to one of the worst stock market crashes of all time. The Dow lost almost 90% of its value between 1929 and 1932.
The stock market crash of 2008 was also caused by a bubble.
This time, speculative investments went into the real estate market. Rising housing prices gave lenders and investors a false sense prices would always rise. Many people - including underqualified homebuyers - bought into real estate, assuming their investments would be profitable.
But, prices stopped rising. When real estate prices dropped, many people could no longer afford mortgages. Worse, many were underwater - they owed more than their homes were worth. Foreclosures skyrocketed by 81% in 2008.
And when the housing bubble burst, the stock market crashed in 2008.
These historic stock market crashes are why investors are concerned we may be experiencing a stock market bubble now. And with interest rates rising, a stock market crash could happen again...
Will Higher Interest Rates Cause a Stock Market Crash?
The stock markets have been smashing records recently. The Dow is nearing 20,000 points at 19,910.03 and has risen nearly 10% since the Nov. 8 election. On Dec. 13, the three major stock market indexes each hit record highs.
But, explosive growth like this might not be sustainable. And higher interest rates from the Fed could cause a pullback.
Last December, the Fed raised rates 0.25%. The markets responded by dropping sharply in January. The three major stock market indexes fell by an average of 9% during January.
Rates have been under 1% since the Fed slashed them in 2008. But during the last FOMC meeting, Fed officials predicted there would be three more rate hikes in 2017, pushing interest rates above 1% for the first time since 2008.
Now that the stock markets are trading near record-breaking levels, higher interest rates could have a more dramatic effect.
With stock markets unsustainably high, interest rate hikes could lead to a major pullback, and investors need to be prepared to protect their money. That's why we're giving you our stock market crash protection plan...
Our Stock Market Crash Protection Plan