Every new year is ripe with promise, and 2017 seems to hold more promise than most - at least for some people.
But I've got a few simple ideas that could make it a great year - many great years - for all of us.
And I mean one of the best, most prosperous years in American history...
We Won't Get Anywhere with the Same-Old, Same-Old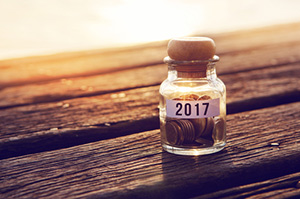 If it seems like most of America has been, well, down in the dumps psychologically (and financially) since the 2008 credit crisis and Great Recession, there's a good reason.
For lots of people, not much seems to have changed for the better.
Sure, if you're a One-Percenter, your wealth has significantly increased because you not only had money in the market and stayed in it after the crash, but you also probably bought more stocks as the market kept going up.
And with interest rates so low for so long, if you had good credit, it was easy to borrow to buy more financial assets. And those assets kept going up and up, because companies could borrow cheaply to buy back their own shares as never before.
That made management rich, along with shareholders, but it didn't do a damn bit of good for hundreds of millions of Americans.
Those Americans got crushed, almost to death; the cheap-as-free cash that made some even wealthier ruined millions of savers, who barely earned a cent on their savings. What's more, plenty of people who got sucked out by the 2008 crash didn't get back in.
One reason, besides fear, was that aging Baby Boomers were following Outdated Financial Lesson No. 1: As you get older, you shift out of more risky equities and move your portfolio into fixed income, so you can live out your life knowing just what your retirement income will be and you won't be exposed to
Join the conversation. Click here to jump to comments…
About the Author
Shah Gilani boasts a financial pedigree unlike any other. He ran his first hedge fund in 1982 from his seat on the floor of the Chicago Board of Options Exchange. When options on the Standard & Poor's 100 began trading on March 11, 1983, Shah worked in "the pit" as a market maker.
The work he did laid the foundation for what would later become the VIX - to this day one of the most widely used indicators worldwide. After leaving Chicago to run the futures and options division of the British banking giant Lloyd's TSB, Shah moved up to Roosevelt & Cross Inc., an old-line New York boutique firm. There he originated and ran a packaged fixed-income trading desk, and established that company's "listed" and OTC trading desks.
Shah founded a second hedge fund in 1999, which he ran until 2003.
Shah's vast network of contacts includes the biggest players on Wall Street and in international finance. These contacts give him the real story - when others only get what the investment banks want them to see.
Today, as editor of Hyperdrive Portfolio, Shah presents his legion of subscribers with massive profit opportunities that result from paradigm shifts in the way we work, play, and live.
Shah is a frequent guest on CNBC, Forbes, and MarketWatch, and you can catch him every week on Fox Business's Varney & Co.