Every new year is ripe with promise, and 2017 seems to hold more promise than most – at least for some people.
But I've got a few simple ideas that could make it a great year – many great years – for all of us.
And I mean one of the best, most prosperous years in American history…
We Won't Get Anywhere with the Same-Old, Same-Old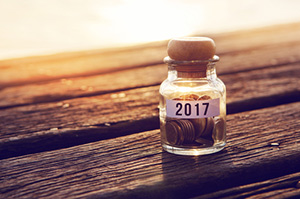 If it seems like most of America has been, well, down in the dumps psychologically (and financially) since the 2008 credit crisis and Great Recession, there's a good reason.
For lots of people, not much seems to have changed for the better.
Sure, if you're a One-Percenter, your wealth has significantly increased because you not only had money in the market and stayed in it after the crash, but you also probably bought more stocks as the market kept going up.
And with interest rates so low for so long, if you had good credit, it was easy to borrow to buy more financial assets. And those assets kept going up and up, because companies could borrow cheaply to buy back their own shares as never before.
That made management rich, along with shareholders, but it didn't do a damn bit of good for hundreds of millions of Americans.
Those Americans got crushed, almost to death; the cheap-as-free cash that made some even wealthier ruined millions of savers, who barely earned a cent on their savings. What's more, plenty of people who got sucked out by the 2008 crash didn't get back in.
One reason, besides fear, was that aging Baby Boomers were following Outdated Financial Lesson No. 1: As you get older, you shift out of more risky equities and move your portfolio into fixed income, so you can live out your life knowing just what your retirement income will be and you won't be exposed to
Join the conversation. Click here to jump to comments…
About the Author
Shah Gilani is the Event Trading Specialist for Money Map Press. In Zenith Trading Circle Shah reveals the worst companies in the markets - right from his coveted Bankruptcy Almanac - and how readers can trade them over and over again for huge gains.Shah is also the proud founding editor of The Money Zone, where after eight years of development and 11 years of backtesting he has found the edge over stocks, giving his members the opportunity to rake in potential double, triple, or even quadruple-digit profits weekly with just a few quick steps. He also writes our most talked-about publication, Wall Street Insights & Indictments, where he reveals how Wall Street's high-stakes game is really played.