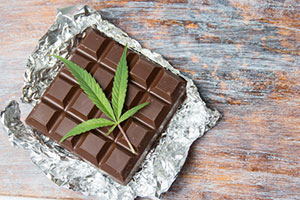 Sales in the legal marijuana industry are skyrocketing, which is why we've created a list of the top marijuana stocks to watch in 2017.
Medical marijuana sales in the United States could reach $3.1 billion in 2017. And as more states like California legalize recreational marijuana, the legal cannabis industry could generate $21.8 billion in total annual sales by 2020.
"At this point, it's impossible to know the full economic impact, but it's safe to say it will be in the billions," Money Morning Director of Technology & Venture Capital Research Michael A. Robinson said on Nov. 8.
But because marijuana is still illegal under federal law, and many of the marijuana stocks on the market are so volatile, this isn't a list of recommendations. Rather, it's a list of marijuana stocks we are watching closely in 2017.
Here's the first marijuana stock we have our eyes on...
Top Marijuana Stocks to Watch in 2017, No. 5: Zoned Properties Inc.
Zoned Properties Inc. (OTCMKTS: ZDPY) develops and leases properties for new and emerging industries like marijuana.
According to its website, the specific and unique needs of medical and recreational marijuana companies allows for Zoned Properties to make more rental income.
Zoned Properties also makes money by selling properties. On Dec. 22, 2016, it sold a property in Arizona for $2.12 million, according to MarketExclusive.com. According to the agreement, the purchase will close no later than March 16, 2017.
Over the last three months, the ZDPY stock price has climbed more than 55%.
Top Marijuana Stocks to Watch in 2017, No. 4: MassRoots Inc.
MassRoots Inc. (OTCMKTS: MSRT) is a social platform that has more than 900,000 users.
MassRoots users share content, follow dispensaries, and stay up to date on the latest marijuana legal news. The site also helps marijuana dispensaries and marijuana retailers market to their consumer base with an article-posting feature.
MassRoots charges dispensaries a monthly fee to use the platform.
CEO Isaac Dietrich told Money Morning Associate Editor Cameron Saucier at the end of October 2016 that MassRoots plans to be cash-flow positive on a monthly basis by the end of 2016.
The MSRT stock price has climbed more than 13% in the last 12 months.
Top Marijuana Stocks to Watch in 2017, No. 3: Growblox Sciences
Growblox Sciences Inc. (OTCMKTS: GBLX) researches and develops cannabis-based treatments. The company produces marijuana concentrates, measurable medical-grade marijuana, and cannabinoid therapies.
BRILLIANT: Average Americans Are Becoming Marijuana Millionaires
Growblox places an emphasis on helping patients who suffer from Alzheimer's disease, epilepsy, Parkinson's disease, and pancreatic cancer.
The GBLX stock price has been volatile over the last 52 weeks. During that time frame, it's traded between $0.13 and $0.65 per share.
But the GBLX stock price has climbed 145% in the last 12 months.
Top Marijuana Stocks to Watch in 2017, No. 2: Scotts Miracle-Gro Co.
Most investors wouldn't consider Scotts Miracle-Gro Co. (NYSE: SMG) to be a pot stock. It's been in business since 1868, and Scotts-Miracle Gro is known for its lawn care products.
But when sales became stagnate after the financial crisis of 2008 and 2009, CEO Jim Hagedorn started to invest in the marijuana industry.
In July 2016, he invested $120 million in a hydroponics equipment company. He's also acquired two other companies that sell fertilizer accessories to pot growers.
This has caused the SMG stock price to soar. Over the last 12 months, the SMG stock price has climbed more than 49%. In comparison, the Dow Jones Industrial Average has climbed just 10.91%.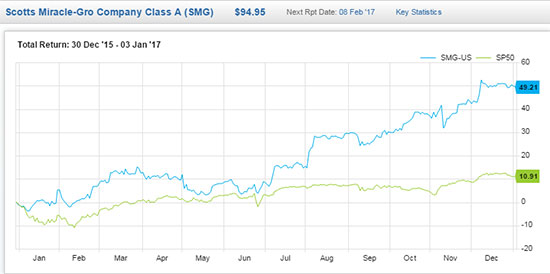 Source: FactSet
Scotts Miracle-Gro also offers a dividend of $0.50, which is a yield of 2.09%.
And our final pick is at the forefront of the cannabinoid prescription medication market...
Top Marijuana Stocks to Watch in 2017, No. 1: GW Pharmaceuticals
GW Pharmaceuticals Plc. (Nasdaq ADR: GWPH) is a UK-based company that was founded in 1998.
The company develops and markets cannabinoid prescription medication solutions. GW was the first company to develop a prescription drug derived from a cannabis plant.
GW is currently working on a product called Epidolex that will be used to help epilepsy patients.
And as marijuana becomes legalized across the United States and Canada, the SMG stock price could skyrocket...
The GWPH stock price has a one-year price target of $147.42 per share, according to FactSet. That means it could climb as high as 31% by the start of 2018.
As a service to Money Morning readers, we're now making available a 90-page cannabis investing guide called "The Roadmap to Marijuana Millions."
This "bible of weed investing" reveals the world's top marijuana stocks every serious investor should consider right now.
Normally valued at $499, it can be yours absolutely free. To learn how to get your free copy, click here.
This offer is only available to the first 500 people who respond today. So please go here now to reserve your copy.
Follow Money Morning on Facebook and Twitter.