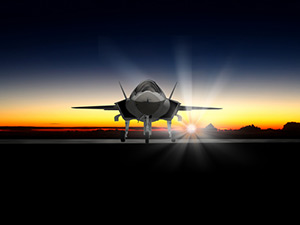 The defense industry is growing at an incredible rate, which is why we've found three defense company stocks to buy today.
Each of these defense stocks rose more than 15% in 2016 and have plenty more growth left in 2017. That's because global defense spending is expected to reach $2 trillion in 2017…
Analysts estimate each of these three defense stocks, which we're about to reveal to you, will rise more than 6% from their current highs. This kind of growth, while small compared to other companies like Facebook Inc. (Nasdaq: FB), comes with less risk. That's because defense stocks are long-term plays and promise steady returns over time.
So why do defense stocks  promise investors steady returns? Money Morning Chief Investment Strategist Keith Fitz-Gerald points to what's called an "Unstoppable Trend." These are trends that will persist despite market conditions, an economic recession, or even a stock market crash.
One such trend is "War," which is where defense stocks and our nation's military spending come into play….
Military Spending Will Boost These Top Defense Company Stocks
Spending on war and terrorism prevention is now a $2 trillion global industry. That's almost 2.5% of the global GDP, with the United States as a world leader.
The United States spends nearly $600 billion annually on defense, and there is talk that President-elect Trump could increase that spending to a staggering $1 trillion. As it is today, the U.S. accounts for 37% of the world's military spending. That's more than the military spending of the next seven countries combined.
Let's face it: The world is more crowded than it has ever been and it's far from safe. While many investors might take issue with "investing in war," there is a bright side to getting behind these 3 top defense stocks.
Most of the top defense companies create technology and products that are designed to prevent war, death, and destruction as much as possible. Here are the three best defense stocks to buy for 2017…
Best Defense Company Stocks to Buy, No. 3: Northrop Grumman Corp.
Northrop Grumman Corp. (NYSE: NOC) is the product of a 1994 merger between Northrop Aircraft and Grumman Aerospace. Today the company is the world's fifth-largest defense contractor, with $23.5 billion in revenue in 2015.
The company is headquartered in West Falls Church, Va., and employs more than 68,000 people around the globe. Northrop has three divisions: Aerospace Systems, Mission Systems, and Technology Services. The company develops military radar systems for air defense and makes the B-2 Spirit strategic bomber for the U.S. Air Force.
Northrop excels in the area of unmanned drones. The company just passed its 15-year anniversary with its Global Hawk program, which is a $10 billion-plus program involving drones for military surveillance.
Don't Miss: Double your money as this company takes the fight to America's enemies…
In a new development, Northrop is in phase 3 design of its TERN drone, which will be able to carry up to 600 pounds of ordnance. This could outclass some of the top fighter jets currently in the air.
Northrop is also involved in the F-35 program, which accounted for 39% of the company's revenue in 2015 and pushed up company profits by 16.7% in Q3 of this year.
In late 2015, Northrop signed what is considered to be one of the largest defense contracts in history. Now called the B-21 Raider, this long-range bomber for the U.S. Air Force could bring anywhere from $50 to $80 billion in revenue to the company over the life of the contract.
NOC stock is trading at $235, with shares up nearly 26% as of Jan. 4 year over year. The company has a dividend yield of 2.9%. The average target price for the stock is now $248, which shouldn't discourage investors as this defense giant still can't go anywhere but up.
Best Defense Company Stocks to Buy, No. 2: Raytheon Co.
Raytheon Co. (NYSE: RTN) is a Massachusetts-based global defense contractor that focuses on military and commercial electronics, as well as various types of weapons systems. Raytheon is the world's largest producer of guided missiles.
Raytheon is also the world's third-largest military contractor, with $23.24 billion in annual revenue. Last year alone, Raytheon's sales were up 31%, with 69% of sales coming from the U.S. government. Right now, the company has more than 15,000 contracts with the Defense Department, with about 16% of those being classified.
Just this week, Raytheon secured a $459 million contract for Secure Voice Transmission through the Department of Defense. Many Raytheon contracts are also with foreign governments. For example, the company is working on a $5 billion missile defense system contract with Poland. They will also benefit from a $38 billion military assistance package awarded to Israel by the U.S. government.
RTN's Q3 earnings of $1.79 EPS were $0.15 better than estimates, and revenue rose 4.3% to $6.03 billion. RTN is trading at $146, with shares up 19% as of Jan. 4 year over year.
Best Defense Company Stocks to Buy, No. 1: Lockheed Martin Corp.
Lockheed Martin Corp. (NYSE: LMT) is the world's largest defense contractor and one of the best defense stocks to own in the coming year, despite what you read on Twitter.
Based in the D.C. area, the company employs more than 126,000 employees worldwide and had revenue of $46.13 billion in 2015. When most people think of Lockheed today, they think of the F-35 project.
Lockheed's most lucrative project on the books is its $400 billion deal with the U.S. government to build 2,400 F-35 fighter jets. The company also has contracts with foreign governments that boost that total up to as many as 3,100 jets through 2035.
The F-35 program has come under scrutiny due to cost overruns, and this was publicized in a "tweet" by President-elect Donald Trump on Dec. 12, who criticized the program and promised "changes" after Jan. 20. This sent LMT stock into a tumble, which many experts believe was unfounded panic.
Not only is the F-35 back on track with its budget, but it's just too entrenched and too big to cancel at this point. Thousands of contractors, domestic jobs, and contracts are tied up in this project, and it would cost more to scrap it than to continue with tighter margins. Trump met with Lockheed executives on Dec. 21 and the parties described the meeting as "productive."
On other fronts, Lockheed made the move last year to purchase Sikorsky Aircraft, which added $1.2 billion to its Q3 bottom line.
Total revenue in Q3 for Lockheed was $11.6 billion. LMT has produced dividend growth for 13 straight years. This year, its annualized payout will be $7.28, with a 2.75% yield. LMT stock is up 16.01% for the year, with about half of reporting analysts giving the stock a "Buy" rating.
Up Next
When it comes to making money in the market, "getting in" early – before a stock begins to make its decisive move – is the single biggest factor to your success as an investor.
Quickly buying Apple after the June 2013 sell-off, for instance, could have doubled your money. Moving on Valeant the same day we recommended our big "negative bet" against it would've booked you a remarkably fast 700% return.
That's why we've introduced Money Morning Profit Alerts. This new, free service lets you choose what investing areas you want to follow – and makes sure you get alerted to news from that sector as soon as we publish it. It means no more waiting. No more searching. No more missing out. It's easy to get started – just go here.
Follow Money Morning on Facebook and Twitter.